Custom Molded Polyurethane Products
For more than 55 years, Meridian Laboratory has been a leader in delivering precision polyurethane drive rollers, idler rollers, encoder wheels, flat sheet, and other designs. Meridian Laboratory has developed an extensive collection of standardized parts in a wide range of shapes and sizes. Despite this, what sets Meridian Laboratory apart from conventional custom molded polyurethane manufacturers is its ability to deliver quick, precise, yet cost effective prototype and low volume parts. Meridian Laboratory has proven time and time again it can deliver from prototype to production – supporting its customers throughout the entire process.
With the unique manufacturing technique used to produce ML6 polyurethane parts, Meridian Laboratory has the ability to scale output with time as need and quantity grows. This allows Meridian Laboratory to adequately support projects from single prototypes to high-volume production, in an efficient and cost effective way.
Meridian Laboratory's Custom Molded Polyurethane Process
Meridian Laboratory has made the process of developing custom cast and custom molded polyurethane components, easy and efficient.
Contact Meridian Laboratory with specifications, drawings, or the part you wish to have made.
In the event Meridian Laboratory does not have pre-existing tooling which fit your needs, a recommendation will be provided on pre-existing tooling and sizing.
If you require specialized tooling, a one-time setup charge (generally between $250 and $500) and is good for the lifetime of the parts' dimensions.
Specify if you would like to send parts to Meridian Laboratory, or have us deliver the part complete to print.
Typically, in 5-7 business days you will receive your first parts for testing and evaluation.
As demand and quantities scale, so can Meridian Laboratory's output and production capabilities to meet your needs.
After the parts are delivered, you can expect periodic check-ins from us – it is our priority to make sure they not only exceed your expectations, but deliver the industry leading performance and longevity we are known for!
ML6® Bonding Strength and Longevity
---
A longer lifespan means more production between maintenance costs and cycles
While many customers utilize ML6 polyurethane components without any core at all, Meridian Laboratory ML6 precision polyurethane is especially effective when bonded to a core or substrate. Cores can range in material and properties, (but are not limited to), all grades of steel, stainless steel, aluminum, brass, copper, ceramics, plastics, and a wide variety of other exotic metals and polymers.
Our process, perfected over 55 years of real-world experience, guarantees an extremely strong bond between the ML6® material and its core. In fact, the bond is so strong the polyurethane material will tear before the bond separates or breaks. This is especially important in high friction and high load operations such as converting, driven rollers, centerless grinding, and other continuous and heavy load applications. Through its unique and exclusive manufacturing process, Meridian Laboratory is able to coat very select and intricate portions of a part, while leaving other areas blank and uncoated.
Surface bond between polyurethane ML6 and a core is stronger than ML6 material itself

Outlasts conventional over-molded rubbers, urethanes, nitriles, and other materials

Ability to precisely coat very intricate portions of parts to specification
ML6 Capabilities
---
Big or small, flat or round, studded or grooved, if you need it, we do it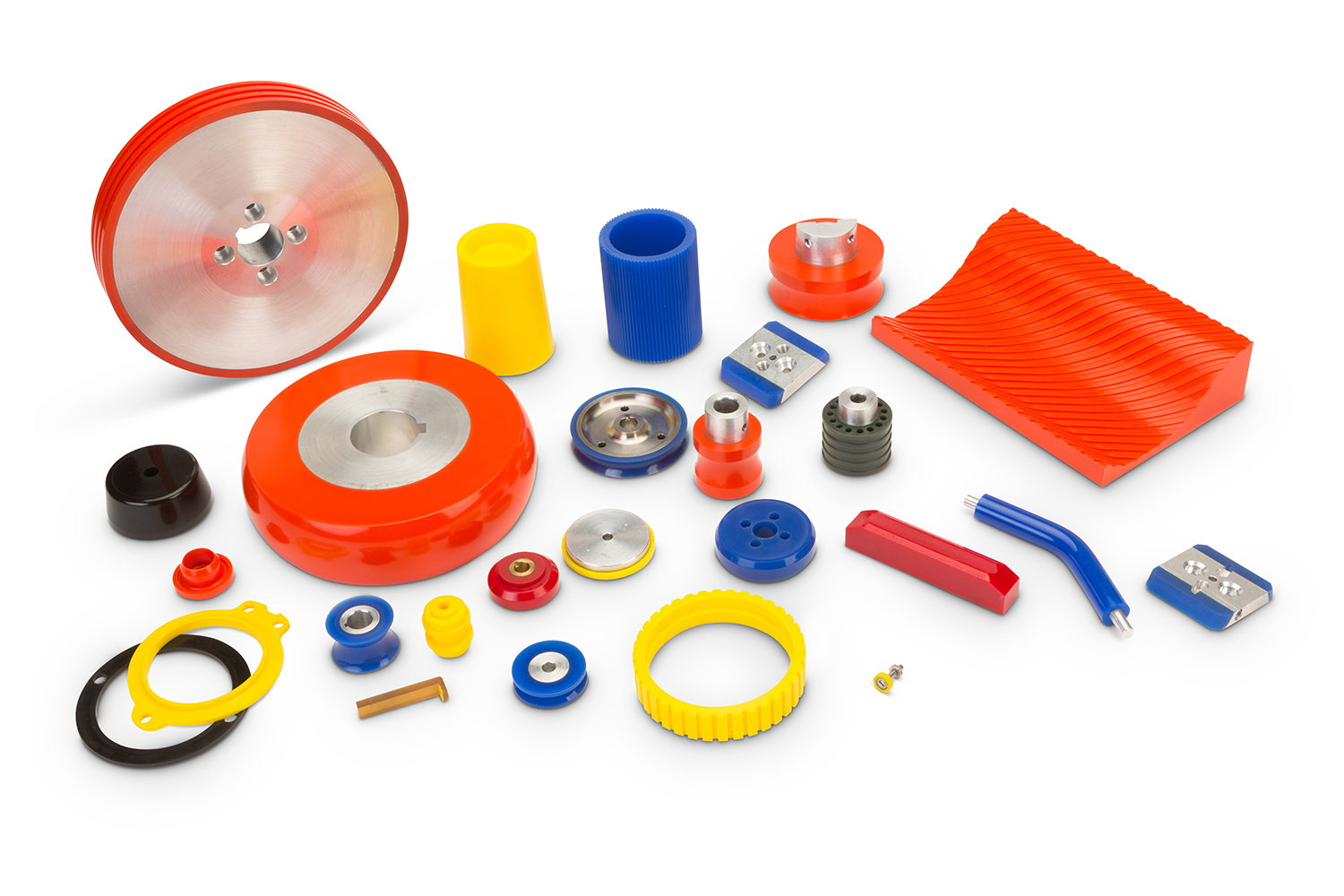 Meridian Laboratory has helped generations of engineers, designers, maintenance technicians, and innovators around the world bring their designs to life. In the past, custom precision polyurethane was an expensive and lengthy process, but that's no longer the case. Our unique and versatile prototype and production process can deliver parts in volumes as low as one piece, in as little as 5 business days.
Typically, our customers come to us to develop a single tested and working prototype, and want to put that part into standard production once proof of concept is shown. Once we have standardized any part, it can be repeated an infinite number of times, with cost effective and repeatable results. Meridian Laboratory is able to offer parts delivered complete with a core included, or simply coat existing parts provided by customers. We manufacture and produce on a daily basis, and can deliver high volume production runs in batch deliveries to meet your needs and usage patterns.
Single piece prototypes available in as little as 5 business days

Parts become standard as soon as one piece has been manufactured

Batch delivery of large orders available to be called in on daily basis if needed
Variety of Colors and Durometers Available
---

Don't settle for whatever color is available, we'll match your color scheme, at no cost
Every production environment is different, but they have one thing in common; parts in motion are hard to keep track of. Many of our customers value the ability to select roller and wheel colors based on durometer hardness, location in their production chain, roller speed, or any of a number of other factors. Not only are we experienced and adept at working with very specific application requirements like these, we're happy to offer suggestions on how you can improve your operations with no added cost, just by selecting the right product options at the outset.
Standard durometers include 40A, 55A, 70A, 80A, 90A, and 60D while standard colors include (but are not limited to) yellow, blue, orange, black, red, white, green, and clear. Meridian Laboratory's steady and daily production schedule also allows for changes to be made to the color and/or durometer, even if in the middle of large volume production runs.
Durometers include 40A, 55A, 70A, 80A, 90A, and 60D

Colors include yellow, blue, orange, black, red, white, green, and clear

Ability to change color and durometer without setup or change cost
Meridian Laboratory's Engineering Experience
---
Experience Excellence in Engineering
From a humble beginning, Meridian Laboratory has evolved and proven itself to be a world leader in delivering standard and custom precision polyurethane solutions to industries and customers across the world. Our customers rely on our talented engineers to assist in product design and make recommendations to maximize efficiency, reduce cost, and improve overall product functionality. We have been a partner and provider to small, niche operations and the world's largest corporations alike. Through our direct ties to application design and production, we have literally thousands of success stories to share with customers, oftentimes directly related to a specific application challenge we can offer our experience with.
We don't back down from a challenge and we welcome all potential uses of this time-tested and application-proven, precision polyurethane. Customers oftentimes approach us with "impossible" ideas and concepts that even we had never imagined. We believe that the harder you work to achieve it, the more meaningful the accomplishment, and we encourage you to send us your requests, no matter how challenging or intricate they may be.
Over 55 years of experience in delivering precision polyurethane solutions

Solution provider to small, niche operations and large corporations alike

Welcoming and receptive to new and complex challenges

Ability to change color and durometer without setup or change cost