High Current Slip Ring Alternatives
| | |
| --- | --- |
| » Provides consistent low and stable resistance for high current applications | » Robust industrial design provides reliable long lasting performance |
| » Requires ZERO grease or routine maintenance | » Remains unaffected by RPM or total number of revolutions |
The high-current, multiple-contact, MXP-Series ROTOCON slip ring alternative is designed and built in a variety of configurations for high amperage applications.  In applications like rotary turntable molding machines, conventional slip ring contacts suffer from arcing, friction and inevitable degradation of electrical performance. The MXP operates at 98% energy efficiency with no arcing or breaks in the flow of power, maintaining consistency and quality of power as it's transmitted. This greatly improves product quality and eliminates maintenance costs.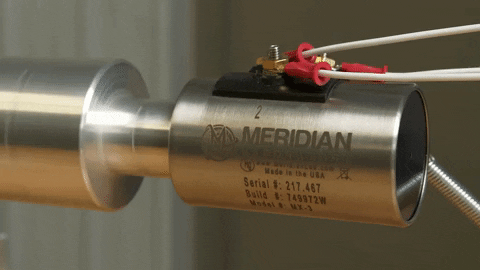 ---
Signal Quality Demonstration: Conventional Slip Ring vs. ROTOCON
The ROTOCON platform utilizes a sealed contact system that is brushless and provides the cleanest electrical signal available in any rotary electrical contact solution, for both power and data signals, you can count on no measurable noise from our rotary electrical union.
Why Choose ROTOCON? Request a ROTOCON quote
| | |
| --- | --- |
| RPM | Model dependent, contact Meridian Laboratory |
| MOUNTING | End of shaft, flange, or with set screws onto shaft (through-hole, MXPT Series) |
| HOUSING | 304 Stainless steel |
| TERMINATIONS | Cable lug over threaded shaft, supplied with hardware and crush washers - flanges optional |
| OPERATION | Can be operated in any direction or orientation |
| MAINTENANCE | Features permanently lubricated bearings, brush-free design requires no user maintenance |
| | |
| --- | --- |
| VOLTAGE | Standard: Up to 600V AC/DC, Optional: Up to 4,000V AC/DC |
| MINIMUM INSULATION RESISTANCE | >500MΩ @ 1kVDC |
| AMPERAGE | Model dependent, 100% overload allowed for <60 seconds - contact Meridian Laboratory for models |
| FREQUENCY | Standard up to 250MHz, Optional up to 1GHz (with certain models & applications) |
| STATIONARY CONTACT RESISTANCE | <0.01mΩ |
| ELECTRICAL NOISE | <0.01uV |
| OPERATION | Intrinsically immune to internal arcing |
| NOTES | Intrinsically immune to internal arcing, designed for continuous operation |
| | |
| --- | --- |
| AMBIENT TEMPERATURE | Not to exceed 160˚F (70˚C) |
| IP RATING | Available up to IP67 |
Available in through-bore and end of shaft designs
Rotary welding
Electro-plating
Rotary cutting
Rotary magnetrons/sputtering deposition
Cable reels
Electro-polishing
End of Shaft
Flange
Through-Hole
| | |
| --- | --- |
| ROTOR | Ring Terminals (Standard) |
| BODY | Ring Terminals (Standard) |
| | |
| --- | --- |
| RPM | Up to 15,000 RPM |
| MOUNTING | Through-hole, end of shaft, or flange mount available |
| HOUSING | 6061 Aluminum or 304 Stainless steel |
| PASSAGES | Up to 20 Passages |
| PRESSURE | Up to 23,000 PSI - speed and media dependent |
| TEMPERATURE | -321F to 900F, depending on options |
FIBER TYPES
Single-mode E9/125μm
Multi-mode G50/125 μm
Multi-mode G62.5/125 μm
*Fiber protection available
CHANNELS
Standard: 1, 2, 3-20 Channels
Custom: Up to 81 Channels
CONNECTOR TYPE
SC, LC, FC, ST, LSA, Molex/LC, LuxCis
POLISH
UPC, APC, PC
DIGITAL DATA TRANSMISSION
Up to 40Gbits/s per channel
RPM
Up to 3,000 RPM (Model specific)
TEMPERATURE
-40F to 185F