Experience the latest type of brushless slip ring technology on the market
RoHS and CE Compliance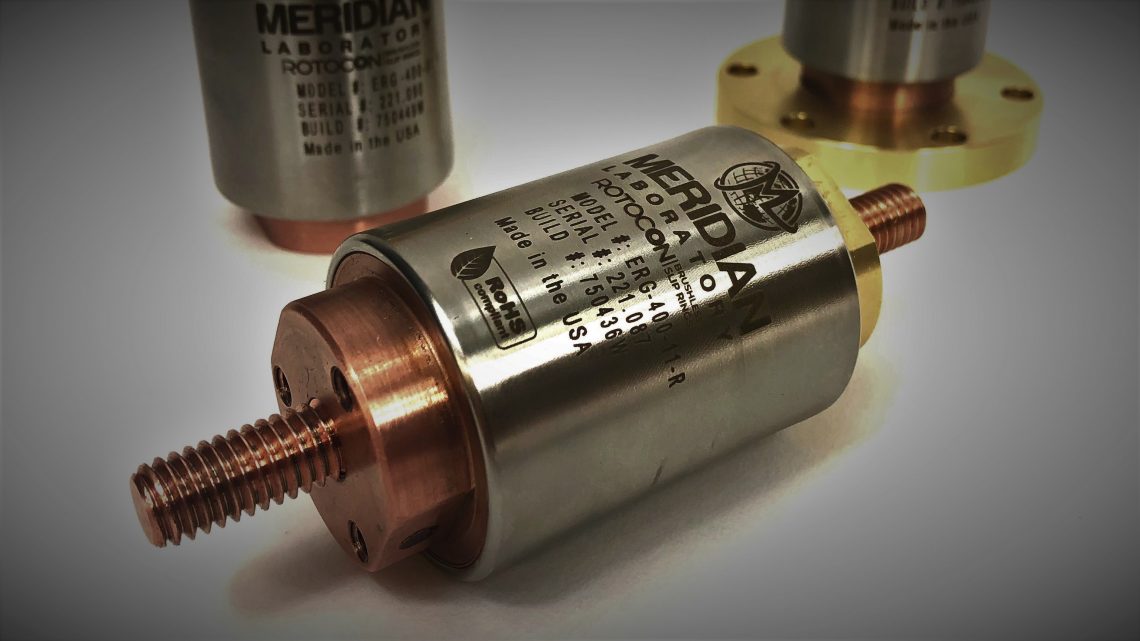 ROTOCON HIGH-PERFORMANCE ROTARY ELECTRICAL CONNECTORS AVAILABLE AS ROHS AND CE COMPLIANT
Since 1963, ROTOCONs have been relied upon to exceed even the highest industry demands, with tens of thousands of units in operation worldwide. You may or may not have been aware, these products contained small trace amounts of environmentally sealed elemental mercury. Now, for the first time, Meridian Laboratory's high-performance rotary electrical connectors can be manufactured without mercury and are available as RoHS / CE compliant while still delivering the legendary quality and durability that ROTOCON customers have come to expect.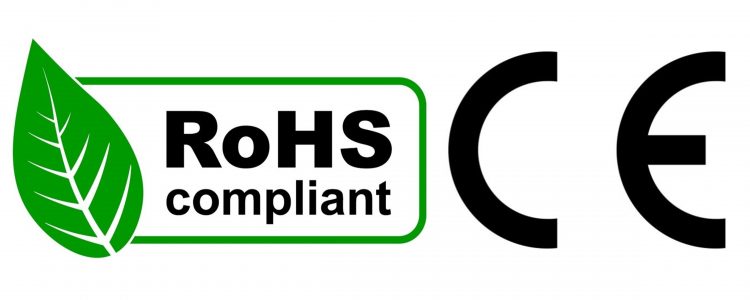 ---
CURRENT ROTOCON MODELS AVAILABLE AS ROHS AND CE COMPLIANT
The revolutionary ERG Series of electrical rotary grounds provide a consistent, maintenance-free, rotating electrical contact and connection unaffected by instantaneous RPM (for high-speed applications) or total number of revolutions. ROTOCON rotary grounds frequently surpass 500 million revolutions without demonstrating a change in electrical resistance or performance. Current models are rated at 400A and 800A continuous (Meridian Laboratory has the capabilities to produce 15,000A units if required).
Model Number/Part Number: ERG-400-01-R, ERG-400-02-R, ERG-400-11-R, ERG-400-21-R, ERG-400-
22-R, ERG-800-01-R, ERG-800-02-R, ERG-800-11-R, ERG-800-21-R, ERG-800-22-R, ERG-800-31-R
---
RoHS and CE Compliance Declaration
---
WHY WOULD A SLIP RING NEED TO CONTAIN MERCURY?
There are very few fluids (liquid at room temperature) in the world that are electrically conductive and have electrically low resistance. ROTOCON's have historically utilized mercury to achieve the cleanest electrical signal in any rotary electrical contact solution, for both power and data signals. The brushless solution is ideal for heavy-duty, continuous use in industrial environments (configurations support up to 10,000 Amps, 40,000 RPM and over 100 connections).
---
THE MERCURY IS ENVIRONMENTALLY SEALED, AND ACHIEVES THE GREATEST PERFORMANCE RESULTS, WHY STOP USING IT?
Meridian Laboratory is conscious of the historical and environmental impacts of mercury. Some countries have banned the use of mercury in part because of overuse in non-regulated instances in environmentally sensitive areas (Mining, Consumer Electronics, Lighting Industry, etc.)
Meridian Laboratory is a very small consumer, products contained only trace amounts (2-5 ml) of hermetically sealed elemental mercury. However, in the interest of being environmental progressive, Meridian Laboratory continues to be dedicated to minimizing any negative environmental impacts, and are aware that the use of mercury will be globally phased out in the future.
---
WHAT WAS THE DEVELOPMENT PROCESS TO ACHIEVE ROHS AND CE COMPLIANCE?
Meridian Laboratory has spent five years researching, designing, producing, and testing non-mercury brushless solutions that perform equal to mercury wetted rotary electrical connectors. Achieving over 500 million revolutions while delivering unparalleled performance results. Meridian Laboratory is committed to redesigning the entire ROTOCON product catalog, eliminating any future use of mercury.
---
DOES THE NEW ROHS / CE SLIP RING CONTAIN ANY TRACE AMOUNT OF MERCURY?
No.
---
WHAT IS USED IN PLACE OF MERCURY?
Meridian Laboratory has developed a proprietary conductive liquid that maintains low and stable contact resistance.
---
DOES IT ACHIEVE THE SAME RESULTS, ELECTRICALLY SPEAKING?
Yes, it delivers the same high-performance results. Operating temperatures vary slightly.
---
HAS THIS TECHNOLOGICAL BREAKTHROUGH EVER BEEN ACCOMPLISHED BEFORE?
No, this level of performance has never been achieved by a non-mercury electrical rotary connector.
---
WHAT DOES THIS INNOVATION MEAN TO THE FUTURE OF THE SLIP RING INDUSTRY?
Historically, there has been little to no meaningful innovation in the slip ring industry. Slip rings that were on locomotives 120 years ago are the same as those on modern day bottling equipment and other manufacturing assembly procedures used today. The base principal is the same.
There are presently two ways of conveying electrons to move from a rotating to a stationary place. There is a brushless contact, that in most cases, up until now, have used a wetted mercury base. There is also a traditional brushed (metal-on-metal) contact slip ring, and no matter what technology advancements that have been claimed (hardened filament, wiper, wire-whisker, fiber-wire, and other material buzz words), the solution is always limited to that fact that there is a metallic based brush riding on a metallic based ring.
This product enhancement by Meridian Laboratory delivers unsurpassed reliability with the same great maintenance-free benefits that only a ROTOCON can achieve.
Contact Us
Phone: 608-836-7571
Toll-Free: 800-837-6010
Fax: 608-831-0300
Email: info@meridianlab.com