Polyurethane No-Crush Wheels & Rollers
No Crush Wheels, Zero Crush Wheels, Bottle Spacer Wheels, Metering Wheels, Hold-Down Wheels – Whatever you call them, we have them…and lots of them!
| | |
| --- | --- |
| » Precision dimensional tolerances with low runout | » Industry-leading bond strength |
| » Wheels are designed to bow and protect materials being driven | » Reduced wear and increased longevity of contact surfaces |
ML6® No Crush Wheels and Rollers (and otherwise referred to as spacer wheels, metering wheels, zero crush rollers, and spider wheels) are excellent choices for usage as bottle/material spacing wheels, feed rolls, hold down rolls, transfer section rollers, and much more.  ML6 Polyurethane by Meridian Laboratory is specially formulated for industrial use in production and manufacturing operations – remaining flexible, while providing excellent durability and tolerances.  Zero Crush Wheels can be used in a wide variety of methods and industries in mailroom equipment, corrugated packaging machinery, and bottling and labeling equipment.
Zero-Crush Rollers by Meridian Laboratory are available in a wide variety of sizes ranging from 2.50″ to 6″ outside diameter, up to 2″ in width, and bore sizes from 0.250″ to 1.00″.  Meridian Laboratory can also manufacture custom bore sizes (including Metric sizes) which might not be shown – quickly and cost effectively. Click here to shop online.
Meridian Laboratory has delivered industry leading precision polyurethane rollers and wheels since 1963, with tens of thousands of different size options and variety.  Meridian Laboratory ML6 Polyurethane manufacturing can deliver precision molded polyurethane parts ranging from 1 to 1M parts in a quick and cost effective method.  Contact Meridian Laboratory today to learn how we can solve your needs!
Why Choose ML6? Request a ML6 quote
Click to discover more information on each of these incredible benefits
Cardboard and Paper Manufacturing and Processing
Production and Packaging Machinery and Equipment
Sensitive or Fragile Materials Handling/Movement
Automated Production Line Applications
Replacement for any standard wheel or roller function
Bottle Spacing
Hardness Options
40A, 55A, 70A
Custom colors available on request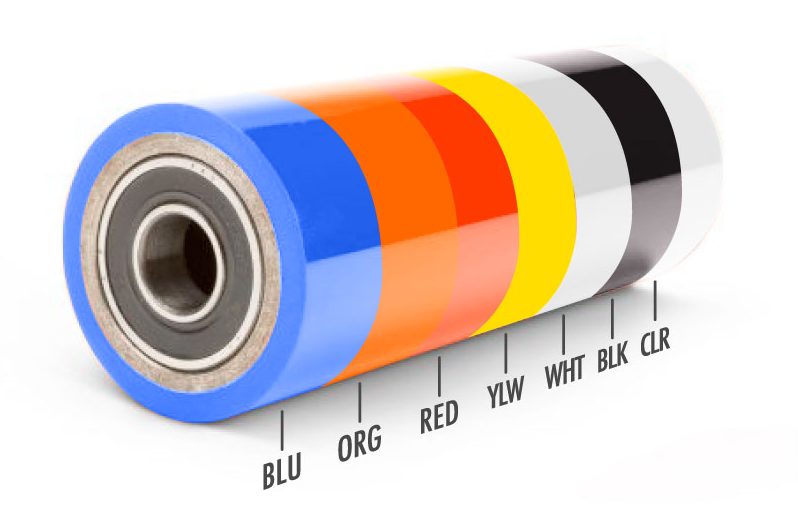 ML6-40A
ML6-55A
ML6-70A
ML6-80A
ML6-90A
ML6-60D
Hardness (+/- 5)
40A
55A
70A
80A
90A
60D
Ultimate Elongation (%)
640
540
540
640
500
600
Ultimate Tensile (PSI)
3200
5300
5600
6900
6200
6400
Tear Strength, pli Die "C"
150
244
332
421
568
620
Split
19
51
92
175
134
125
Compression Modulus (Young's Modulus)
380
830
1660
1990
6460
16200
Compression Set (%
22 Hrs. @ 158ºF)
0
1
7
16
18
30
Bashore Rebound (%)
50
41
37
31
35
52
Abrasion Loss, mm
200
224
159
94
101
115
For more information, contact Meridian Laboratory