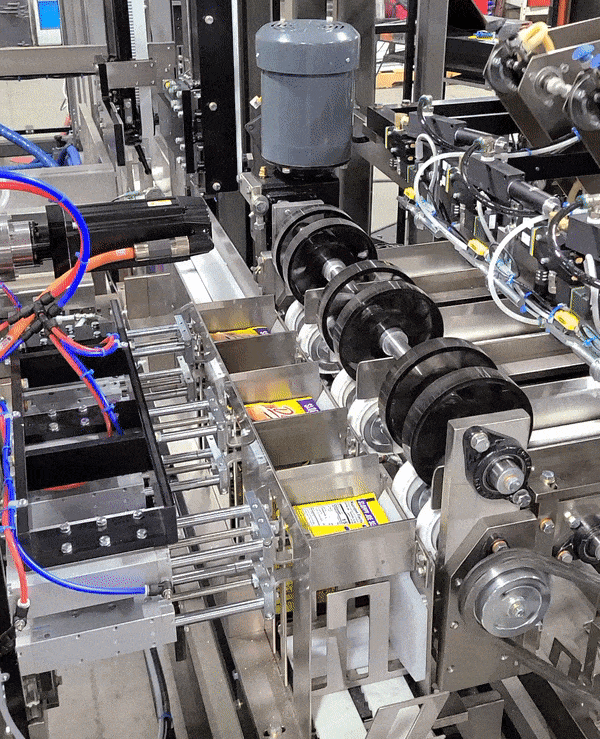 ML6 Zero Crush Rollers can be used in a wide variety of methods and industries from mailroom equipment, to bottling and labeling equipment, and more. They solve problems for the packaging industry too, as seen in the GIF here, these innovative wheels are designed to flex and protect materials being driven, while delivering reduced wear and increased longevity. Learn 5 key features of our No-Crush Wheels and why they might be perfect for your application!
ML6 Spacer Wheels by Meridian Laboratory are available in a wide variety of sizes ranging from 2.50″ to 6″ outside diameter, up to 2″ in width, and bore sizes from 0.250″ to 1.00″. Meridian Laboratory can also manufacture custom bore sizes (including Metric sizes) quickly and cost-effectively. Shop now on NoCrushWheels.com by Meridian Laboratory!
Highly Customizable Spacer Wheels
Meridian Laboratory exceeds conventional custom molded polyurethane manufacturers with its ability to deliver quick, precise, yet cost-effective prototypes and low-volume parts. Through innovative manufacturing techniques, Meridian Laboratory can scale output with time as need and quantity grows. This allows Meridian Laboratory to adequately support spacer wheel projects from single prototypes to high-volume production, in an efficient and cost-effective way.
ML6's design flexibility extends from custom sizes, colors, and durometers to core materials. Steel cores are common for spacer wheels throughout the industry, however Meridian Laboratory can deliver parts with bushings, bearings, multiple core materials (aluminum, steel, stainless steel, nylon, Delrin, etc.), or even without a core – giving you the exact solution needed for your specific project. Additionally, design patterns can be reversed so parts can go back-to-back on a common shaft.
Meridian Laboratory has delivered industry leading precision polyurethane rollers and wheels since 1963, with tens of thousands of different size options and variety. ML6 delivers precision molded polyurethane parts ranging from 1 to 1M parts in a quick and cost-effective way. Contact Meridian Laboratory today to learn how we can solve your needs!
Hardness Options
40A, 55A, 70A
Custom colors available on request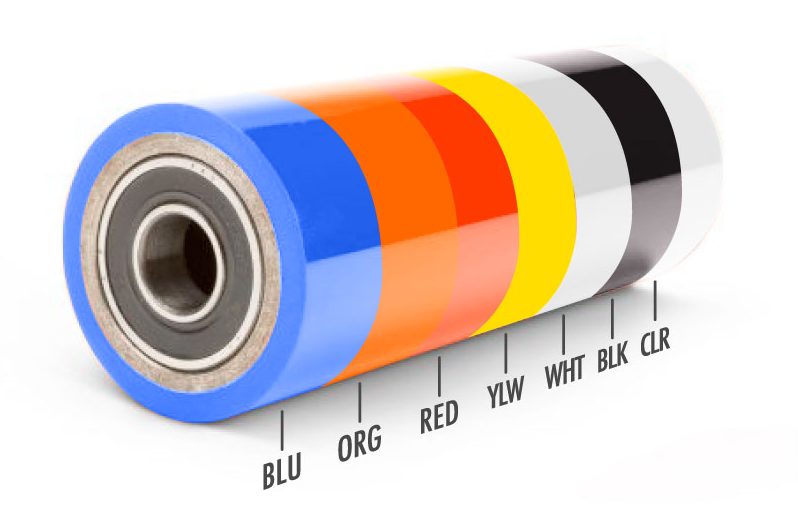 ML6-40A
ML6-55A
ML6-70A
ML6-80A
ML6-90A
ML6-60D
Hardness (+/- 5)
40A
55A
70A
80A
90A
60D
Ultimate Elongation (%)
640
540
540
640
500
300
Ultimate Tensile (PSI)
3200
5300
5600
6900
6200
6400
Tear Strength, pli Die "C"
150
244
332
421
568
620
Split
19
51
92
175
134
125
Compression Modulus (Young's Modulus)
380
830
1660
1990
6460
16200
Compression Set (%
22 Hrs. @ 158ºF)
0
1
7
16
18
30
Bashore Rebound (%)
50
41
37
31
35
52
Abrasion Loss, mm
200
224
159
94
101
115
For more information, contact Meridian Laboratory