Hubbed Polyurethane Drive Rollers & Wheels
| | |
| --- | --- |
| » High friction roller surface | » T.I.R. guaranteed <0.0015" or better |
| » Non-marking, durable ML6 polyurethane material | » Industry-leading bond strength |
Meridian Laboratory ML6® precision polyurethane hubbed drive rollers, (or friction rollers) are manufactured in cores made of 6061 aluminum or 304 stainless steel, but are available in plastics and other non-metallic materials as well.  Precision polyurethane is molded with tolerances of 0.0015" or better, they are available in a variety of standard sizes and custom profiles.  For applications which are space sensitive, see Meridian Laboratory's complete lineup of precision polyurethane hubless drive rollers.
Custom molded polyurethane roller and drive sizes and profiles are available very affordably, with turnaround times in as little as 5 days.  Meridian Laboratory specializes in delivering high quality, precision polyurethane drive rollers and wheels – ranging in quantity from 1 to 1M+.
ML6 polyurethane drive wheels are available in a variety of sizes, colors, and durometers to meet any of your requirements. Click here to shop online.
Why Precision Matters
While it's easy to think "it's just a roller", it's even easier to lose sight of how much you ask of your rollers and wheels, day in and day out. Keeping your operations running with a minimum of downtime for machine repairs, feed jams, tuning of encoder wheels, or other time wasters (and money costers) means upgrading to superior components for your application. If you expect, and demand that your equipment do more, ML6 offers a proven upgrade you'll notice immediately.
In this short video above, discover one (of many) reasons a more durable, precision roller can have a huge impact on your manufacturing environment.
Why Choose ML6? Request a ML6 quote
Click to discover more information on each of these incredible benefits
Mailroom equipment
Press room manufacturing and production equipment
Paper feeders
Plastic film extrusion equipment
Automated packaging machinery
Nuclear fuel rod insertion
Hardness Options
40A, 55A, 70A, 80A, 90A, 75D
Custom colors available on request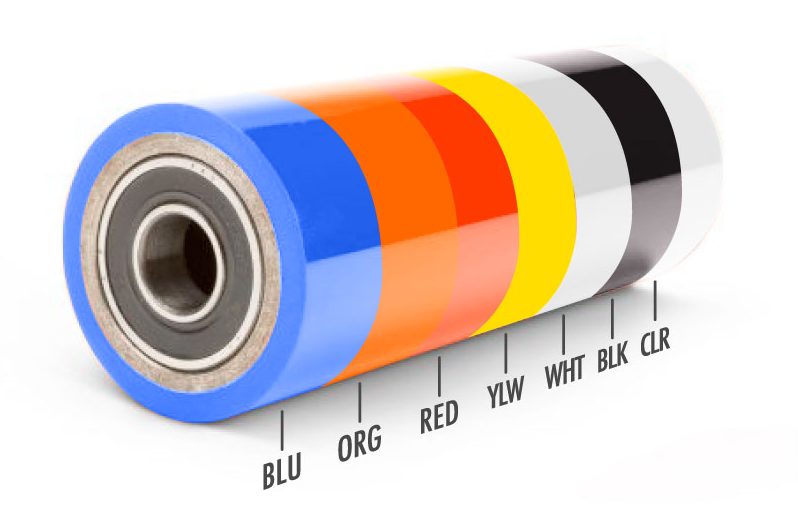 ML6-40A
ML6-55A
ML6-70A
ML6-80A
ML6-90A
ML6-60D
Hardness (+/- 5)
40A
55A
70A
80A
90A
60D
Ultimate Elongation (%)
640
540
540
640
500
600
Ultimate Tensile (PSI)
3200
5300
5600
6900
6200
6400
Tear Strength, pli Die "C"
150
244
332
421
568
620
Split
19
51
92
175
134
125
Compression Modulus (Young's Modulus)
380
830
1660
1990
6460
16200
Compression Set (%
22 Hrs. @ 158ºF)
0
1
7
16
18
30
Bashore Rebound (%)
50
41
37
31
35
52
Abrasion Loss, mm
200
224
159
94
101
115
For more information, contact Meridian Laboratory