HAVE QUESTIONS? WE'RE HERE TO HELP.
ML6® Frequently Asked Questions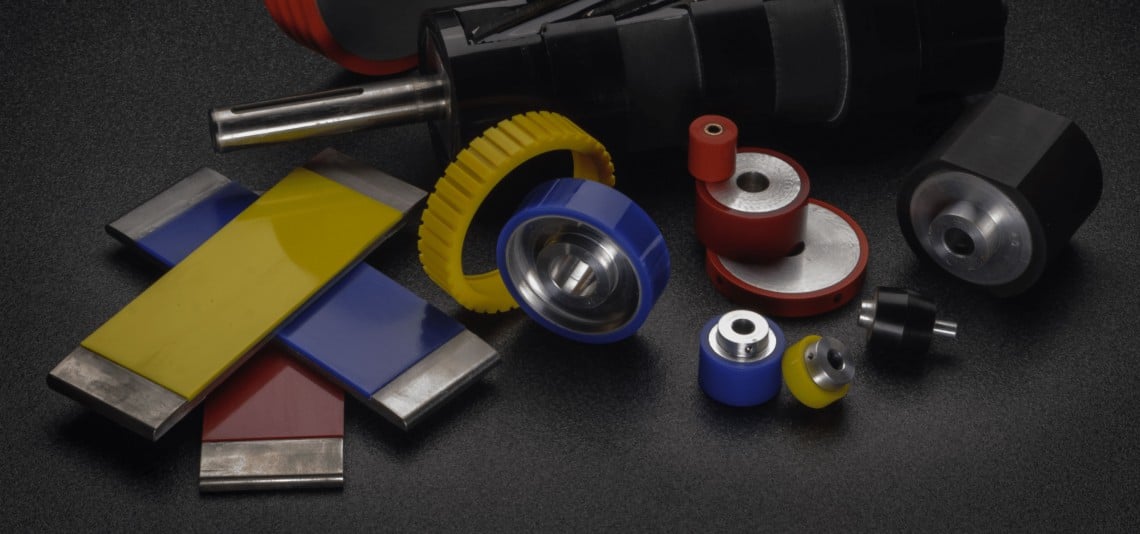 Can you make custom parts?
Absolutely. Our unique and versatile prototype and production process can deliver parts in volumes as low as one piece, in as little as 5 business days. Typically, our customers come to us to develop a single tested and working prototype, and want to put that part into standard production once proof of concept is shown. Once we have standardized any part, it can be repeated an infinite number of times, with cost effective and repeatable results.
What is the lead time for custom polyurethane part development?
Typically, customers have parts in-hand in as little as 1-2 weeks. Meridian Laboratory experts are also available for assistance with part development, in these instances lead time will vary dependent on project scale, but thanks to our in-house capabilities we are extremely cost effective and quick in building molds and delivering long-lasting solutions. Stock parts can often be shipped the same day as purchase. The advantage of choosing Meridian Laboratory is that we can provide low volume tooling to accommodate prototype and low volume needs, and scale accordingly to meet your higher volume, production level requirements.
What is durometer and why does it matter?
Durometer is a way of measuring the hardness of relatively soft materials. Generally speaking, harder durometers tend to be more wear resistant, and softer durometers tend to have more friction. Meridian Laboratory ML6® polyurethane offers durometers of 40, 55, 70, 80, and 90 on the Shore A scale. More information on durometer can be found here.
Do you recoat old rollers and parts?
Yes! Recoating old rollers and parts is a very cost effective method for salvaging old parts. Meridian Laboratory is able to recoat rollers that we originally produced, as well as rollers from other manufacturers. Click here to learn more.
Can you manufacture parts complete?
Yes! Meridian Laboratory has the ability to manufacture single parts as well as large production runs of thousands of pieces. We have the ability to make cores and rollers out of a wide variety of materials ranging from aluminum to titanium, and also plastics.
Can I send you my rollers or parts to strip and recoat?
Yes! We are happy to coat rollers that are supplied by the customer. Once we receive the parts, we will prepare the surfaces that are to be coated, as no surface preparation needs to be done by the customer.
What are your tolerances?
ML6® is unique in that we can hold extremely tight tolerances without grinding the material. We can hold diameter tolerances of .001", and a TIR (total indicated runout) of .001" per foot. More information regarding the advantages of ML6 can be found here.
What is the operating temperature range of polyurethane ML6®?
The effective operating temperature range of ML6® is -20°F to 200°F.
Do you have a minimum order?
No! Our minimum order is 1 part.
How is ML6® different from other polyurethanes?
ML6® is unique in that it can hold very tight tolerances without grinding. This leaves a perfect surface finish that has a better coefficient of friction, and is impervious to contamination since the cell structure is not opened through grinding or finishing. This results in a better performing, and longer lasting part. More information regarding the advantages of ML6 can be found here.
Does Meridian Laboratory only make wheels (round parts)?
No! Although ML6® was originally developed as a high friction drive roller for the paper and card stock feeding industry, over the past 55 years our customers have found some very unique applications because of its unique characteristics. We routinely produce tubes, flat clamps, gaskets, bumpers, curved grippers, and have even produced blocks for ballistic testing!
How long will it last?
Determining the life expectancy of ML6® is rather difficult. It is largely dependent on the application specifics, such as the material that it is driving, speed that it is operating, and the cleanliness of the environment. Although we cannot give a life expectancy, one thing that we can guarantee is that it will outlast our competitors' material.  Because of the perfect surface finish of ML6, our customers often choose a harder durometer than our competitors' material because it has better friction characteristics, and the harder material will inherently last longer. The perfect surface finish is also closed cell (unlike ground rollers) and will not become embedded with swarf and other contaminants, which expedites wear.
How strong is the bond?
Many of our customers have come to us because they have found that polyurethane on competitors' rollers often slips or falls off. We have developed a proprietary bonding process that results in a bond that is stronger than the material itself. Contrary to other manufacturers, we bond and cure the polyurethane all in one step, never pressing or sliding the polyurethane over (unless our customer desires this style of production).
Can Meridian Laboratory offer engineering and design assistance?
Yes! Meridian Laboratory has application and integration engineers that have helped customers for over 55 years. We can analyze an application and offer suggestions such as durometer and design that will give our customers the most effective and affordable solution.
Can you provide me with a sample part of ML6®?
Yes! Feel free to call us of fill out our online request which can be found here.
What are the advantages of ML6® polyurethane?
See a full list of details regarding the advantages of our ML6® polyurethane here.
Contact Us
Meridian Laboratory
2415 Pleasant View Rd.
Middleton, WI 53562
Phone (608) 836-7571
T. Free (800) 837-6010
info@meridianlab.com
Meridian Laboratory
2415 Pleasant View Road, Middleton
5.0 43 reviews