Customization Options
We specialize in both low and high volume orders
Meridian Laboratory has helped generations of engineers, designers, maintenance technicians, and innovators around the world bring their designs to life. In the past, custom precision polyurethane was an expensive and lengthy process, but that's no longer the case. Our unique and versatile prototype and production process can deliver parts in volumes as low as one piece, in as little as 5 business days.
Typically, our customers come to us to develop a single tested and working prototype and want to put that part into standard production once proof of concept is shown. Once we have standardized any part, it can be repeated an infinite number of times, with cost-effective and repeatable results. We manufacture and produce on a daily basis, and can deliver high-volume production runs in batch deliveries to meet your needs and usage patterns.
Prototypes available in as little as 5 business days

Tolerances of 0.001" or better in both diameter and runout

Single prototypes to high-volume production, in an efficient and cost-effective way
Check out our durometer options below, our engineers can help find the best option to suit your different applications (hard/durable to soft/forgiving).
Hardness Options
40A, 55A, 70A, 80A, 90A, 75D
Custom colors available on request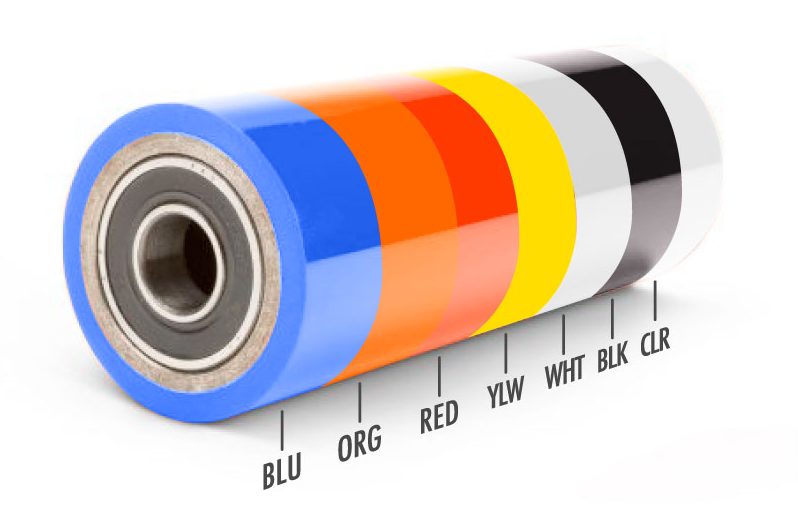 ML6-40A
ML6-55A
ML6-70A
ML6-80A
ML6-90A
ML6-60D
Hardness (+/- 5)
40A
55A
70A
80A
90A
60D
Ultimate Elongation (%)
640
540
540
640
500
300
Ultimate Tensile (PSI)
3200
5300
5600
6900
6200
6400
Tear Strength, pli Die "C"
150
244
332
421
568
620
Split
19
51
92
175
134
125
Compression Modulus (Young's Modulus)
380
830
1660
1990
6460
16200
Compression Set (%
22 Hrs. @ 158ºF)
0
1
7
16
18
30
Bashore Rebound (%)
50
41
37
31
35
52
Abrasion Loss, mm
200
224
159
94
101
115
For more information, contact Meridian Laboratory