Precision Polyurethane Coated Encoder Wheels
| | |
| --- | --- |
| » High friction roller surface | » T.I.R. guaranteed <0.0015" or better |
| » Non-marking, durable ML6 polyurethane material | » Industry-leading bond strength |
Meridian Laboratory precision encoder wheels are incredibly accurate and robust.  The process of molding ML6 polyurethane has been developed to produce tight tolerance and repeatable results.  Encoder wheels that are manufactured by Meridian Laboratory have a tolerance of less than .001", and this is achieved without grinding.  This perfect molded surface not only provides superior friction, but also prevents the material from wearing and giving false readings from the encoder.
Meridian Laboratory has stock sizes available, but is also capable of producing custom wheels in as little as 5 days from order to delivery in an extremely cost effective manner.
ML6 polyurethane encoder wheels are available in a variety of sizes, colors, and durometers to meet any of your most demanding requirements.
Why Choose ML6? Request a ML6 quote
Click to discover more information on each of these incredible benefits
Converting and processor equipment
Paper, cardstock, and graphic printing systems
Nuclear fuel rod handling systems
Die cutting machines
Conveyor systems
Material metering systems
Hardness Options
40A, 55A, 70A, 80A, 90A, 75D
Custom colors available on request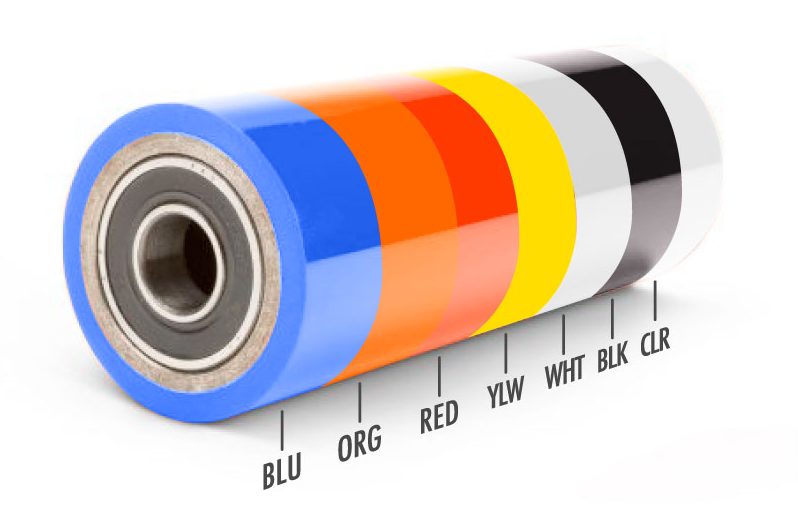 ML6-40A
ML6-55A
ML6-70A
ML6-80A
ML6-90A
ML6-60D
Hardness (+/- 5)
40A
55A
70A
80A
90A
60D
Ultimate Elongation (%)
640
540
540
640
500
600
Ultimate Tensile (PSI)
3200
5300
5600
6900
6200
6400
Tear Strength, pli Die "C"
150
244
332
421
568
620
Split
19
51
92
175
134
125
Compression Modulus (Young's Modulus)
380
830
1660
1990
6460
16200
Compression Set (%
22 Hrs. @ 158ºF)
0
1
7
16
18
30
Bashore Rebound (%)
50
41
37
31
35
52
Abrasion Loss, mm
200
224
159
94
101
115
For more information, contact Meridian Laboratory