Upon receipt of rollers, shafts, and other parts for refurbishment, Meridian Laboratory will analyze the parts as follows:
Measure existing coating for dimensions or obtain desired measurements and sizes.
Measure the durometer of existing coatings or obtain desired durometer.
Confirm with customer desired dimensions, colors, and durometers.
Measure cores, shafts, and other parts for tolerances.
Repair or replace any cores that are out of tolerance.
Bond new Meridian Laboratory polyurethane ML6 to specifications.
Measure and ensure recovered tolerances match desired specifications.
If desired, Meridian Laboratory's team will also make recommendations on changes to rollers, shafts, and other parts that need recovering.  Whether the desired outcome is cost reduction, increased longevity, or higher friction the Meridian Laboratory's team can assist you in achieving your goals. Custom sizes and profiles are available very affordably, with turnaround times in as little as 5 days.
Hardness Options
40A, 55A, 70A, 80A, 90A, 75D
Custom colors available on request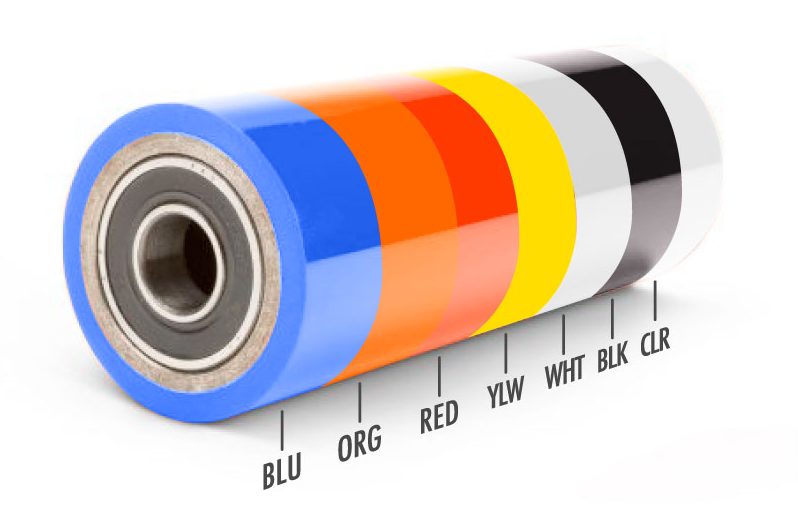 ML6-40A
ML6-55A
ML6-70A
ML6-80A
ML6-90A
ML6-60D
Hardness (+/- 5)
40A
55A
70A
80A
90A
60D
Ultimate Elongation (%)
640
540
540
640
500
300
Ultimate Tensile (PSI)
3200
5300
5600
6900
6200
6400
Tear Strength, pli Die "C"
150
244
332
421
568
620
Split
19
51
92
175
134
125
Compression Modulus (Young's Modulus)
380
830
1660
1990
6460
16200
Compression Set (%
22 Hrs. @ 158ºF)
0
1
7
16
18
30
Bashore Rebound (%)
50
41
37
31
35
52
Abrasion Loss, mm
200
224
159
94
101
115
For more information, contact Meridian Laboratory