Standalone Polyurethane Tubing, Belts, and Products
| | |
| --- | --- |
| » High friction, non-marking material | » Round, flat, intricate shapes and profiles |
| » Available in variety of colors and durometers | » Perfect (no grinding) surface finish |
Coated rollers and shafts are not the only polyurethane products that Meridian Laboratory specializes in.  We also manufacture stand-alone polyurethane tubes, belts, and other products without a core or bonded material.
The same high friction, precision tolerance and high wear polyurethane that we mold as precision drive wheels can be produced into a low cost, coreless polyurethane tube.  Polyurethane tubes are an economical solution to adding a non-marking, durable, coating to an existing shaft or product.  This is an excellent way to add part protection to conveyor rollers and drive rollers without the added expense of a coated roller.  ML6 polyurethane tubes can be easily pressed onto shafts, and when worn easily removed and replaced.  These tubes are made with the same ID and OD tolerances as our rollers (+/-0.001"), with a perfect surface finish and no grinding.  ML6 tubes can be made to any size ID/OD and are always cut to length for your application, up to 30" in length.
ML6 polyurethane belts are a great alternative to traditional poly cord.  We manufacture belts to exact circumferences in any width for your specific application.  ML6 belts offer the same great friction and low wear benefits, but without the drawback of having a weld seam.  Meridian Laboratory belts are seamless and can be used at much higher tension than typical belts.  This combined with the high friction characteristic of ML6 polyurethane provides for greater friction and less slippage in the mechanism.
Many customers also use precision polyurethane ML6 for applications which are not traditionally a tube or a belt, but simply as a non-marking and durable material that is highly customizable, providing low volume, cost-effective solutions.  Customers often use polyurethane ML6 as a gasket, seal, or bumper material including flat, round, and other shapes and profiles.
Why Choose ML6? Request a ML6 quote
Click to discover more information on each of these incredible benefits
Gaskets and seals
Polyurethane tubing
Tractor and feeder belts for mailroom equipment
Vibration mounts and dampeners
Hardness Options
40A, 55A, 70A, 80A, 90A, 75D
Custom colors available on request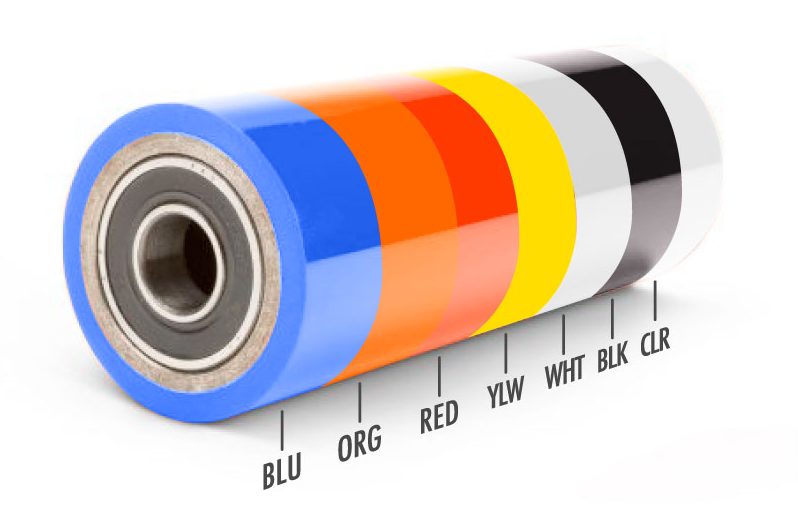 ML6-40A
ML6-55A
ML6-70A
ML6-80A
ML6-90A
ML6-60D
Hardness (+/- 5)
40A
55A
70A
80A
90A
60D
Ultimate Elongation (%)
640
540
540
640
500
600
Ultimate Tensile (PSI)
3200
5300
5600
6900
6200
6400
Tear Strength, pli Die "C"
150
244
332
421
568
620
Split
19
51
92
175
134
125
Compression Modulus (Young's Modulus)
380
830
1660
1990
6460
16200
Compression Set (%
22 Hrs. @ 158ºF)
0
1
7
16
18
30
Bashore Rebound (%)
50
41
37
31
35
52
Abrasion Loss, mm
200
224
159
94
101
115
For more information, contact Meridian Laboratory