Meridian Laboratory's Custom Molded Polyurethane Process
Meridian Laboratory has made the process of developing custom cast and custom molded polyurethane components easy and efficient.
Contact Meridian Laboratory with your specifications, drawings, or the part you wish to have made/replaced.
If you require unique tooling to meet your requirements, there may be a one-time setup charge (generally between $250 and $500), and is good for the lifetime of the parts' dimensions.
Specify if you would like to have Meridian Laboratory deliver complete with the core, or rather send parts in.
Typically, in 10-15 business days you will receive your first parts for testing and evaluation.
As demand and quantities scale, so can Meridian Laboratory's output and production capabilities to meet your needs.
The ML6 Polyurethane Difference
ML6 precision polyurethane is guaranteed to deliver exacting tolerances and precision of up to 0.001" and specified to meet your application's specific needs. Our combination of engineering and polymer expertise produces a finished product without surface grinding and is free of pits, air bubbles, or other defects that are common in the vast majority of polyurethane products available on the market.
We deliver the results to our customers' demands of their applications and look forward to solving your custom polyurethane manufacturing needs.
Find out how we deliver unparalleled precision.
Hardness Options
40A, 55A, 70A, 80A, 90A, 75D
Custom colors available on request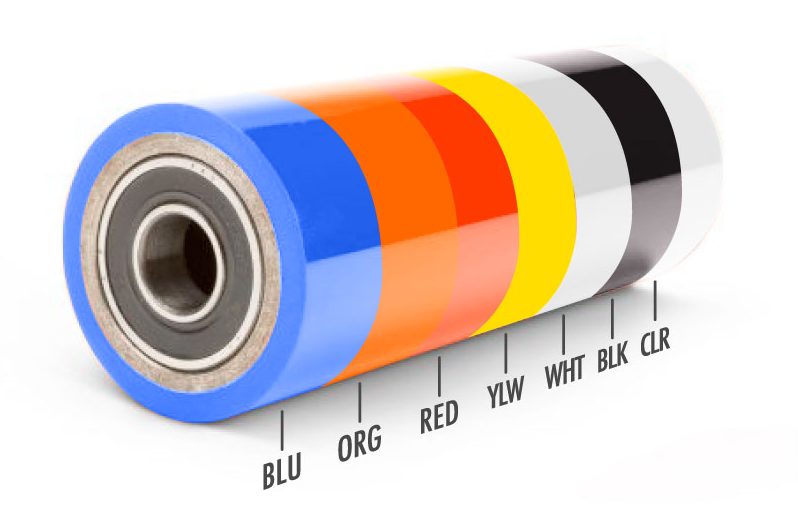 ML6-40A
ML6-55A
ML6-70A
ML6-80A
ML6-90A
ML6-60D
Hardness (+/- 5)
40A
55A
70A
80A
90A
60D
Ultimate Elongation (%)
640
540
540
640
500
300
Ultimate Tensile (PSI)
3200
5300
5600
6900
6200
6400
Tear Strength, pli Die "C"
150
244
332
421
568
620
Split
19
51
92
175
134
125
Compression Modulus (Young's Modulus)
380
830
1660
1990
6460
16200
Compression Set (%
22 Hrs. @ 158ºF)
0
1
7
16
18
30
Bashore Rebound (%)
50
41
37
31
35
52
Abrasion Loss, mm
200
224
159
94
101
115
For more information, contact Meridian Laboratory