Unparalleled Precision in Cast Polyurethane
High Performance Polyurethane | The ML6® Difference
What sets ML6® high performance polyurethane apart from the rest?
---
ML6 has been engineered and improved over 55 years of working with some of the world's largest manufacturers
Aside from having exclusive sourcing with long term suppliers, and a proprietary formula, what makes ML6 special is our people and our process. Whether you're looking for rollers and wheels, polyurethane overmolding with specific thickness or abrasion requirements, or for a components supplier for high quality consumer electronics, Meridian Laboratory's Engineers are polyurethane specialists who excel at helping you create specific solutions for your specific application.
It's this deep knowledge of industry and application that have helped us develop ML6 precision cast polyurethane into the preferred solution for some of the world's largest OEMs and and Industrial Manufacturers.
Proprietary ML6 Polyurethane Blends and Bonding Agents

Superior Manufacturing Techniques and pristine surface finish

Unmatched Bond Strength and Longevity

Standard and Custom Development Capabilities

Variety of Colors and Durometers Available

Industry leaders in Precision Cast Polyurethane
The Science of our proprietary ML6® Polyurethane Blend
---
Contrary to popular belief, not all polyurethane products are created the same
As a base polymer, polyurethane is used in thousands of industries and applications,  including: household goods, automotive, construction, floor coatings, and heavy industrial manufacturing.  This base polymer can be combined chemically in many ways to derive a finished polyurethane with a variety of qualities, including: Hardness, color, modulus, compression strength, and other technical factors. Combining the raw ingredients properly to derive the correct composition of polyurethane for any particular application is what makes ML6 superior to any other polyurethane on the market. While raw polyurethane is adequate for some applications, its limitations do not allow for precision casting, chemical and structural stability over time, qualities of friction and wearability, and other elements that ML6 customers have come to know and rely upon.
Meridian Laboratory has worked directly with raw base polyurethane polymer manufacturers for over 55 years, and our engineers have developed custom polyurethane ML6 blends which have been perfected for use in automation, production, converting, logistics, and thousands of other applications.  Our ML6 blends are exclusive and proprietary to Meridian Laboratory, and are unlike any other polyurethane materials available on the market.
We offer a variety of blends varying in hardness from 40A to 75D durometer.  With more than 55 years of experience working with polyurethanes, we provide in-depth design knowledge and recommendations for both standard and custom products.
Our engineers work directly with raw material suppliers for tailored and proprietary blends of polyurethane

ML6 Precision polyurethane is specially designed for automation, production, and industrial applications and uses

Our polyurethane is also offered in a variety of colors and durometers (40A-90A, 75D)
Below are two rollers, seemingly the same, both manufactured to 55A durometer.  The ML6 roller (Blue) has remained consistent with time and wear, while a competitor's roller (Orange) has broken down, becoming soft and malleable over the same time, affecting performance, downtime, and output.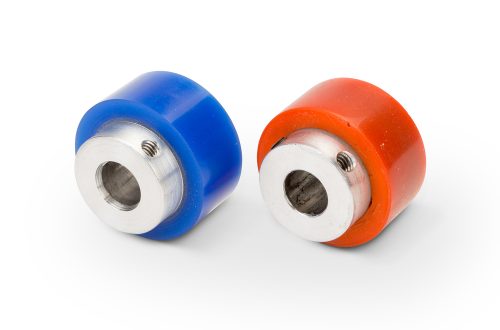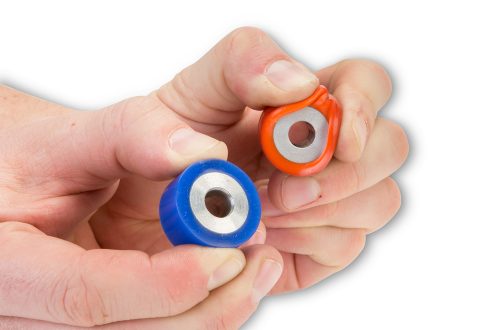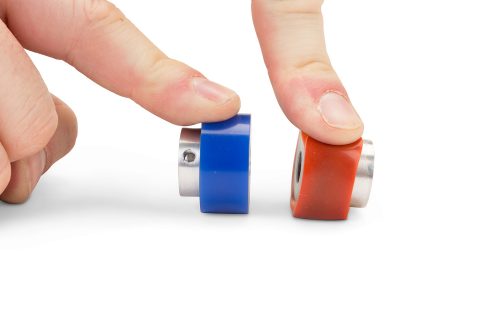 Superior Manufacturing Techniques
---
Measure Twice, Cut Never…
Our precision cast process, specifically developed for use with our proprietary urethane polymers, means we produce polyurethane products exactly to finished OD (Outside Diameter), and that's why our precision is unmatched in the industry. Our combination of engineering and polymer expertise produces a finished product that requires no surface grinding or multiple applications, and contains no pits, air bubbles, or other defects that are common in the vast majority of polyurethane products available on the market.
While all polyurethane is made from the same essential base polymers, it's our process and 55 years of accumulated experience that helps us produce a superior product, every time.
Precision Cast Polyurethane, and why it makes all the difference
Most polyurethane manufacturers rely on traditional over-molding techniques, using an abrasive grinding processes to achieve final dimensions and surface finish.  While this technique works short duty cycle and redundant components, it is counterproductive to break the sealed surface and outer "skin" layer, when attempting to maximize surface friction and longevity.  By opening removing this outermost layer of urethane, the end-product no longer has a closed cellular structure, which allows for particles and substrates to leach into the subsurface of the part.  This, along with the splitting of the grain structure of the material surface accelerates wear, promotes premature degradation, and material tearing and shearing.
For the same reasons a drag racing tire is flat, smooth, and tacky in nature – our precision molded polyurethane parts are able to provide optimal surface friction compared to conventionally ground polyurethane parts and other rubbers, nitriles, urethanes, and materials, while maintaining superior wear characteristics.
Final parts guaranteed within tolerance of up to 0.001" T.I.R. or better
Increased lifespan, with optimum performance throughout

Exact repeatable results, regardless of quantity in all flat, concave, convex, notched or other shapes
Why Performance Matters
While it's easy to think "it's just a roller", it's even easier to lose sight of how much you ask of your rollers and wheels, day in and day out. Keeping your operations running with a minimum of downtime for machine repairs, feed jams, tuning of encoder wheels, or other time wasters (and money costers) means upgrading to superior components for your application. If you expect, and demand that your equipment do more, ML6 offers a proven upgrade you'll notice immediately.
Take a look at the short video below to see one (of many) very simple reasons a more durable, precision roller can have a huge impact on your manufacturing environment.
ML6® Bonding Strength and Longevity
---
A longer lifespan means more production between maintenance costs and cycles
While many customers utilize ML6 polyurethane components without any core at all, Meridian Laboratory ML6 precision polyurethane is especially effective when bonded to a core or substrate.  Cores can range in material and properties, (but are not limited to), all grades of steel, stainless steel, aluminum, brass, copper, ceramics, plastics, and a wide variety of other exotic metals and polymers.
Our process, perfected over 55 years of real world experience, guarantees an extremely strong bond between the ML6 material and its core. In fact, the bond is so strong the polyurethane material will tear before the bond separates or breaks.  This is especially important in high friction and high load operations such as converting, driven rollers, centerless grinding, and other continuous and heavy load applications. Through its unique and exclusive manufacturing process, Meridian Laboratory is able to coat very select and intricate portions of a part, while leaving other areas blank and uncoated.
Surface bond between polyurethane ML6 and a core is stronger than ML6 material itself

Outlasts conventional over-molded rubbers, urethanes, nitriles, and other materials

Ability to precisely coat very intricate portions of parts to specification 
ML6 Standard and Custom Options
---
Big or small, flat or round, studded or grooved, if you need it, we do it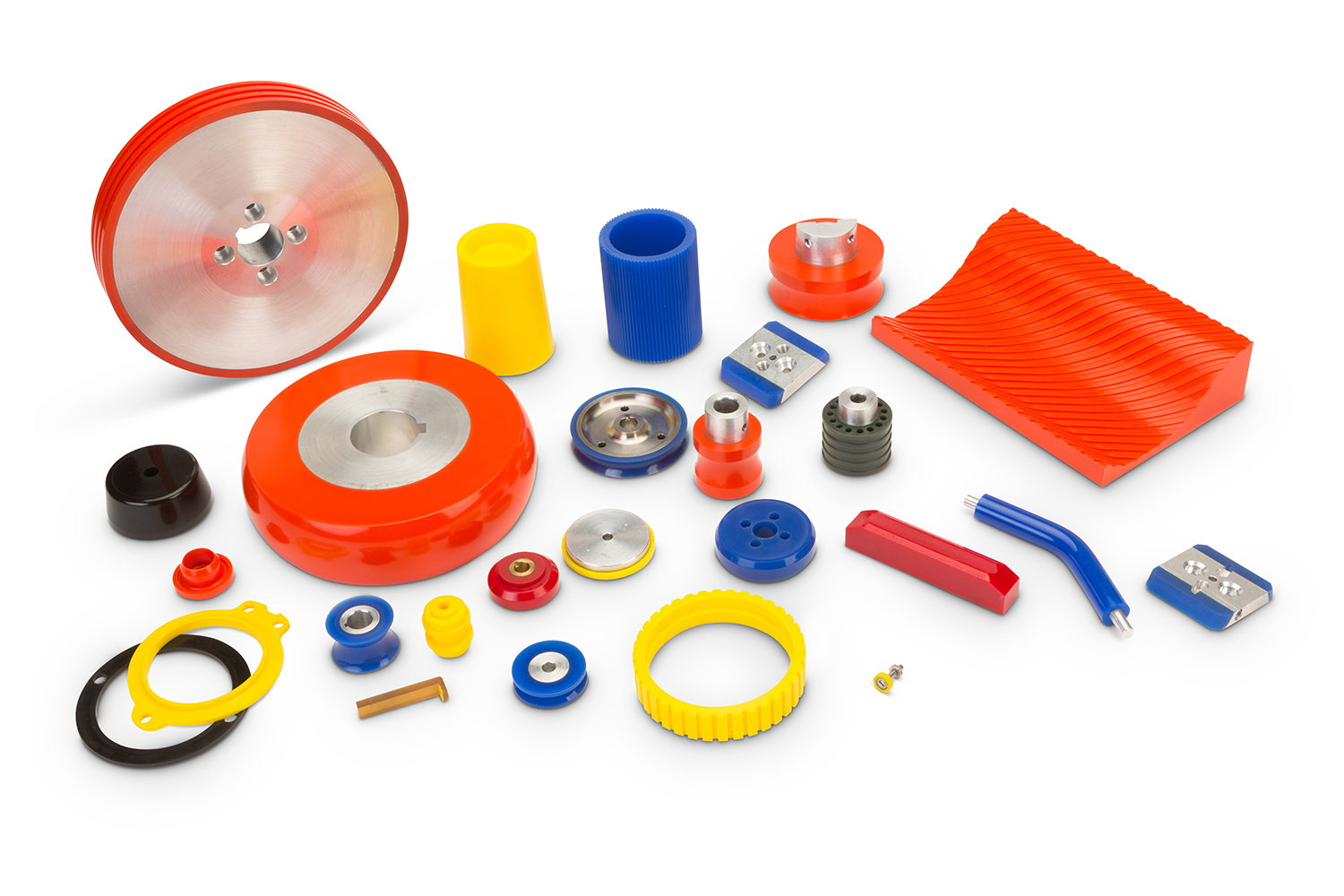 Meridian Laboratory has helped generations of engineers, designers, maintenance technicians, and innovators around the world bring their designs to life.  In the past, custom precision polyurethane was an expensive and lengthy process, but that's no longer the case. Our unique and versatile prototype and production process can deliver parts in volumes as low as one piece, in as little as 5 business days.
Typically, our customers come to us to develop a single tested and working prototype, and want to put that part into standard production once proof of concept is shown.  Once we have standardized any part, it can be repeated an infinite number of times, with cost effective and repeatable results.  Meridian Laboratory is able to offer parts delivered complete with a core included, or simply coat existing parts provided by customers.  We manufacture and produce on a daily basis, and can deliver high volume production runs in batch deliveries to meet your needs and usage patterns.
Single piece prototypes available in as little as 5 business days

Parts become standard as soon as one piece has been manufactured

Batch delivery of large orders available to be called in on daily basis if needed
Variety of Colors and Durometers Available
---

Don't settle for whatever color is available, we'll match your color scheme, at no cost
Every production environment is different, but they have one thing in common; parts in motion are hard to keep track of. Many of our customers value the ability to select roller and wheel colors based on durometer hardness, location in their production chain, roller speed, or any of a number of other factors. Not only are we experienced and adept at working with very specific application requirements like these, we're happy to offer suggestions on how you can improve your operations with no added cost, just by selecting the right product options at the outset.
Standard durometers include 40A, 55A, 70A, 80A, 90A, and 75D while standard colors include (but are not limited to) yellow, blue, orange, black, red, white, green, and clear.  Meridian Laboratory's steady and daily production schedule also allows for changes to be made to the color and/or durometer, even if in the middle of large volume production runs.
Durometers include 40A, 55A, 70A, 80A, 90A, and 75D

Colors include yellow, blue, orange, black, red, white, green, and clear

Ability to change color and durometer without setup or change cost
Meridian Laboratory's Engineering Experience
---
Experience Excellence in Engineering
From a humble beginning, Meridian Laboratory has evolved and proven itself to be a world leader in delivering standard and custom precision polyurethane solutions to industries and customers across the world.  Our customers rely on our talented engineers to assist in product design and make recommendations to maximize efficiency, reduce cost, and improve overall product functionality.  We have been a partner and provider to small, niche operations and the world's largest corporations alike.  Through our direct ties to application design and production, we have literally thousands of success stories to share with customers, oftentimes directly related to a specific application challenge we can offer our experience with.
We don't back down from a challenge and we welcome all potential uses of this time-tested and application-proven, precision polyurethane.  Customers oftentimes approach us with "impossible" ideas and concepts that even we had never imagined.  We believe that the harder you work to achieve it, the more meaningful the accomplishment, and we encourage you to send us your requests, no matter how challenging or intricate they may be.
Over 55 years of experience in delivering precision polyurethane solutions

Solution provider to small, niche operations and large corporations alike

Welcoming and receptive to new and complex challenges

Ability to change color and durometer without setup or change cost
Featured Case Studies
Learn more about how we apply ML6® Polyurethane