Blog / 2017.05.20
ROTOCON Slip Ring Alternative Allows Clean, Noise-Free Signals in Extreme Oceanographic Environments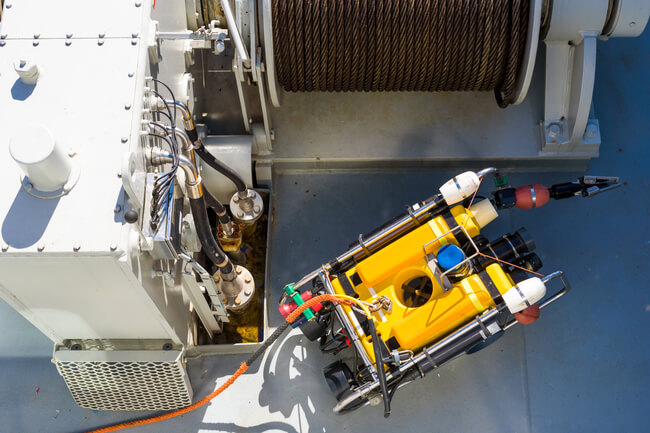 Problem
A manufacturer of oceanographic winches and test equipment contacted Meridian Laboratory about numerous issues with conventional slip rings used on its vessels' deep-sea winch assemblies. Issues included noise generated by slip ring brushes, contact resistance making signal strength weak and unrecognizable, and arcing (cross-talk) occurring between channels due to wet, humid oceanographic environments.
Noise generated by conventional slip rings made signals unrecognizable and distorted.
Saltwater environment corroded brushes and decreased slip ring longevity.
Slip rings required routine maintenance and retrofitted protective equipment.
Solution
Using Meridian Laboratory's unique ROTOCON® MXO series of oceanographic/harsh industrial environment rotary electrical contacts, the manufacturer eliminated all prior issues it had with conventional slip rings. The inherent qualities of ROTOCON's® low contact resistance (low noise) design allowed for signal integrity of water temperature and cable strain to be maintained. In addition to the stainless steel design and added sealing capability of the MXO series, the customer was able to specify a particular sub-sea connector which would directly mate to all existing equipment without any extra modification. This custom solution provides extreme ingress protection while the unit remains maintenance-free with uninterruptable operation for many years, despite its wet, humid and corrosive operating environment.
ROTOCON's® unique design characteristics provided clean, noise-free signals for test and measurement in harsh oceanographic environment.
Stainless steel construction with sub-sea connectors provided 100% sealed design.
Slip ring downtime drastically decreased without issues of corrosion, maintenance or cross-talk.
General Information
Meridian Laboratory's wide array of options, features and capabilities allows us to build and manufacture a virtually infinite number of variations of rotary electrical connectors. Meridian Laboratory provides engineering support to assist in design of new units, retrofit of existing equipment, and complete solutions optimized to your applications. Meridian Laboratory can design single, one-off prototype/concept solutions with no minimum order quantity. Or, we can provide rotary electrical connectors routinely, based on your production schedules and timelines.