Blog / 2021.05.02
Meridian Laboratory Announces A New Line of ROTOCON High-Current Rotary Grounds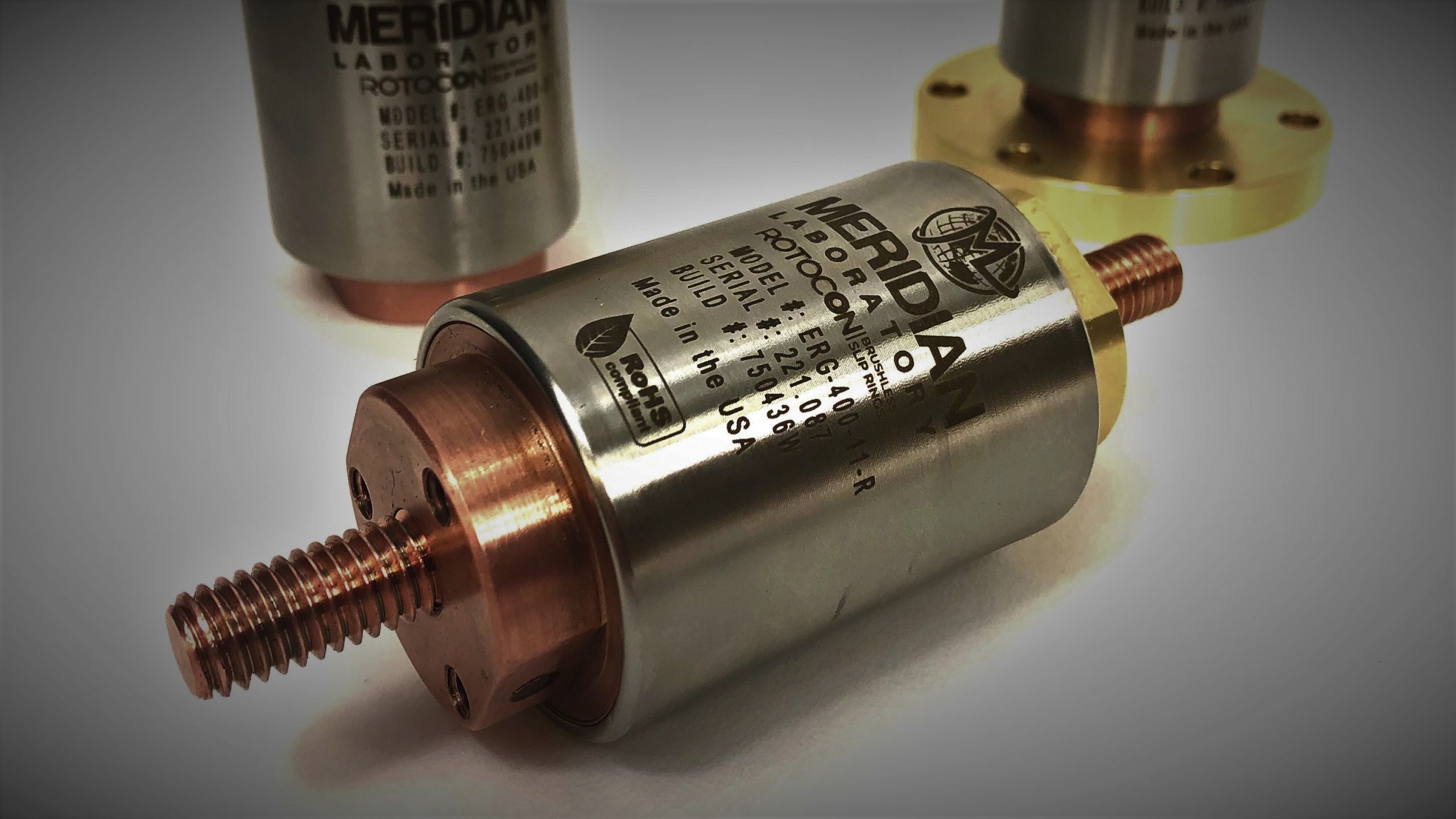 The Innovative ERG Series Delivers a Zero-Maintenance Solution for Rotational Ground Applications
| | |
| --- | --- |
| » Perfectly consistent and stable current delivery, without fluctuations | » 100% Maintenance-Free without greasing, cleaning, or adjustment required |
| » Frequently surpass 500 Million plus revolutions with guaranteed current consistency over time | » RoHS / CE Compliant options available |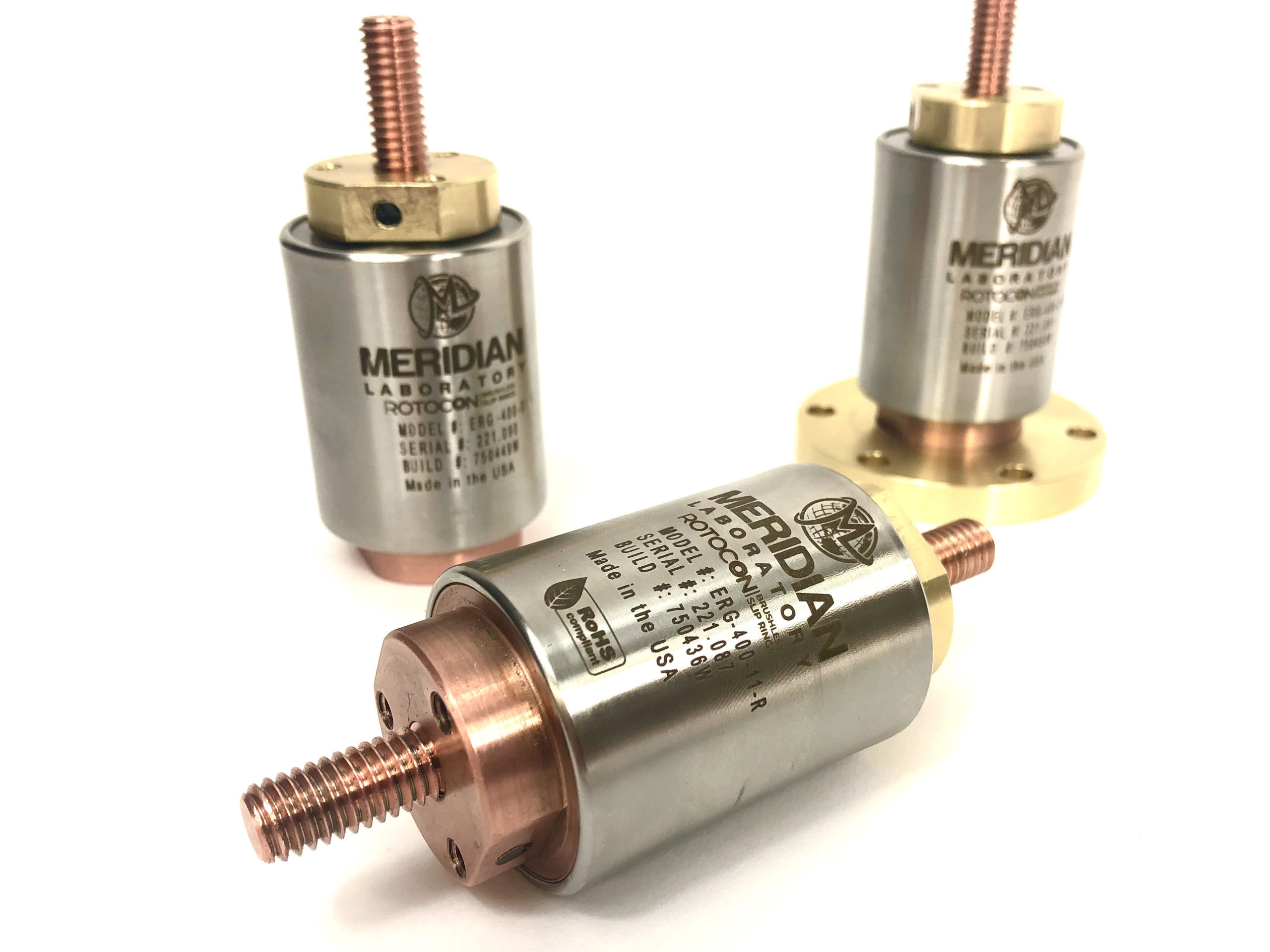 Meridian Laboratory, the industry leading manufacturer of high-performance rotary grounds and brushless slip ring solutions, is pleased to announce the revolutionary ERG Series of electrical rotary grounds. ROTOCON high-current rotary grounds provide a consistent, maintenance-free, rotating electrical contact and connection unaffected by instantaneous RPM (for high-speed applications) or total number of revolutions. ROTOCON rotary grounds frequently surpass 500 million revolutions without demonstrating a change in electrical resistance or performance. Current models are rated at 400A, to 10,000A continuous (Meridian Laboratory has the capabilities to produce 15,000A units if required).

Suitable for all environments and applications including rotary welding, electro-plating, electro-polishing, cutting, and other high-current rotating industrial applications, the ROTOCON ERG Series is designed to withstand 100% duty cycles in continuous manufacturing and production processes, without interruption or downtime. The ROTOCON's brush-free design eliminates all issues such as maintaining brush contact and conductivity, does not require application of conductive greases, and eliminates elevated contact resistance associated with conventional brushed rotary grounds.
"The entire ERG Series provides a perfect rotating ground contact to meet the most demanding applications," said Sven Krause, Meridian Laboratory Director of Business Development. Adding, "The adaptability of its design offers an abundance of robust mounting options to best meet a customer's needs."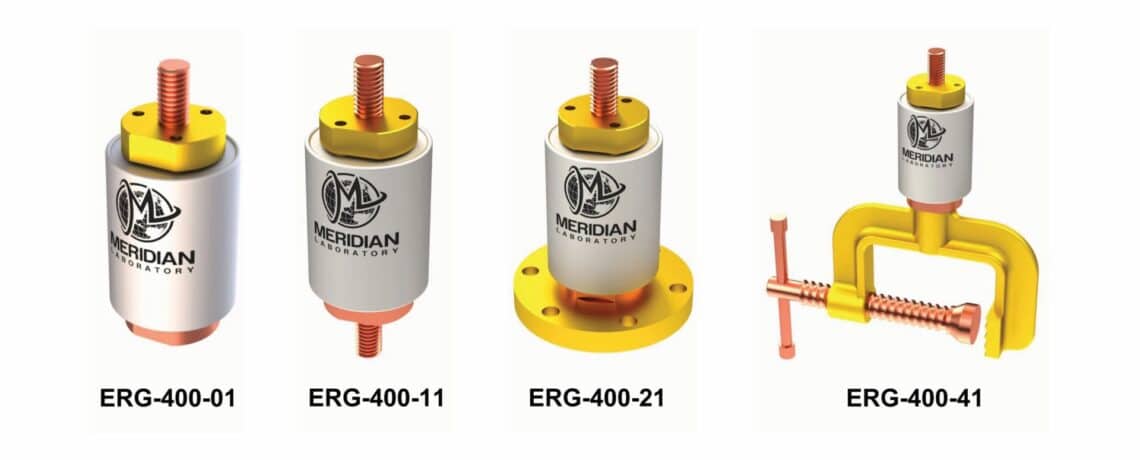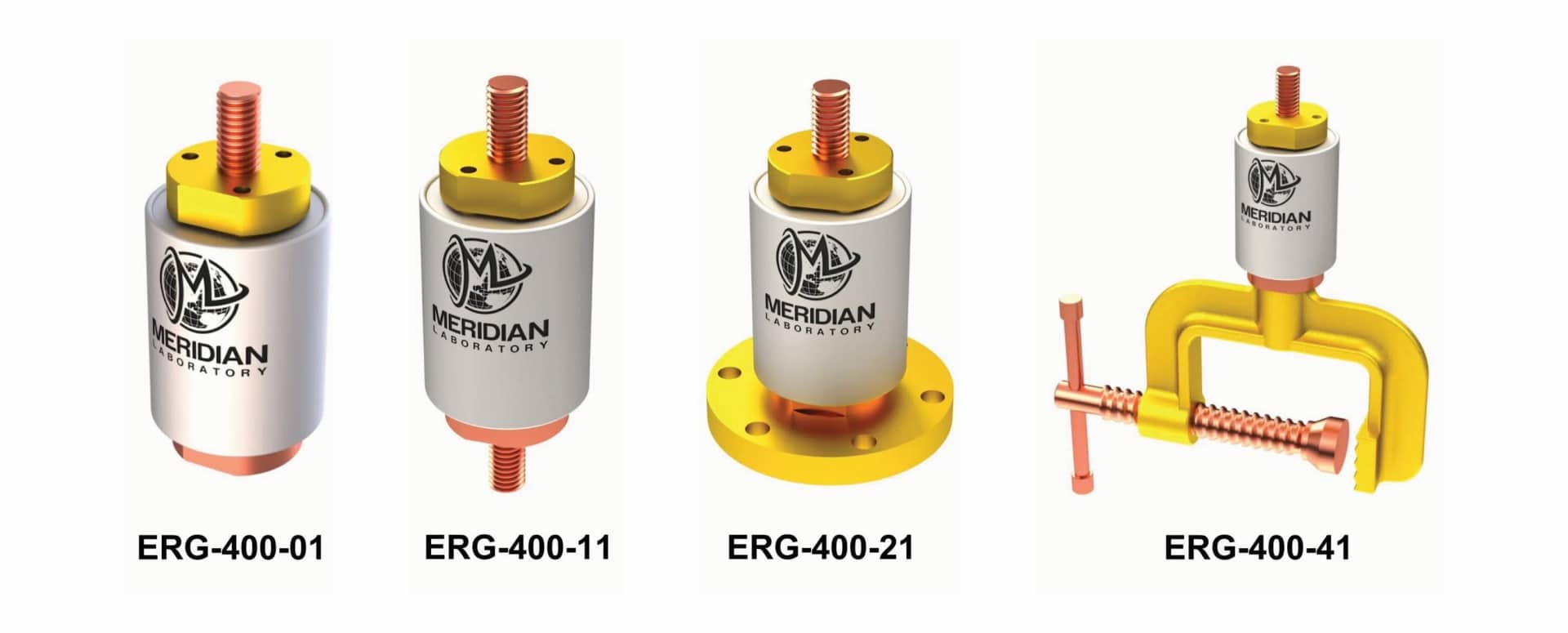 Since 1963, ROTOCONs have been relied upon to exceed even the highest industry demands, with tens of thousands of units sold worldwide. Now, for the first time, these rotary grounds are made available as RoHS / CE compliant while still delivering the legendary quality and durability that ROTOCON customers have come to expect.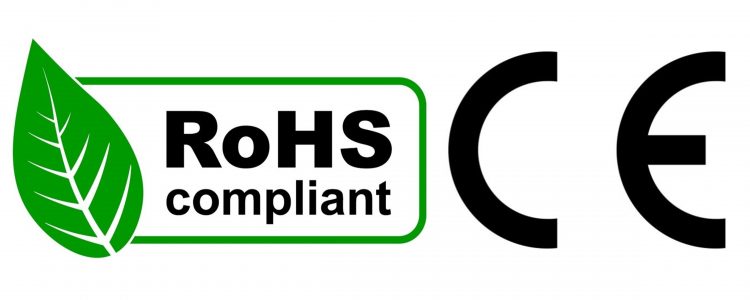 ---
Watch the video below to see the benefits ROTOCON rotary grounds can provide.
---
Stop Settling for Less, It's Time To Upgrade from Your Problematic Lenco and Tweco Brands
Brushed rotary ground clamps and other traditional products on the market provide poor grounding capabilities, constant grease maintenance, and high arcing potential. This leads to machines operating at decreased current levels with variances in penetration, weld quality, and ultimately scrapped product.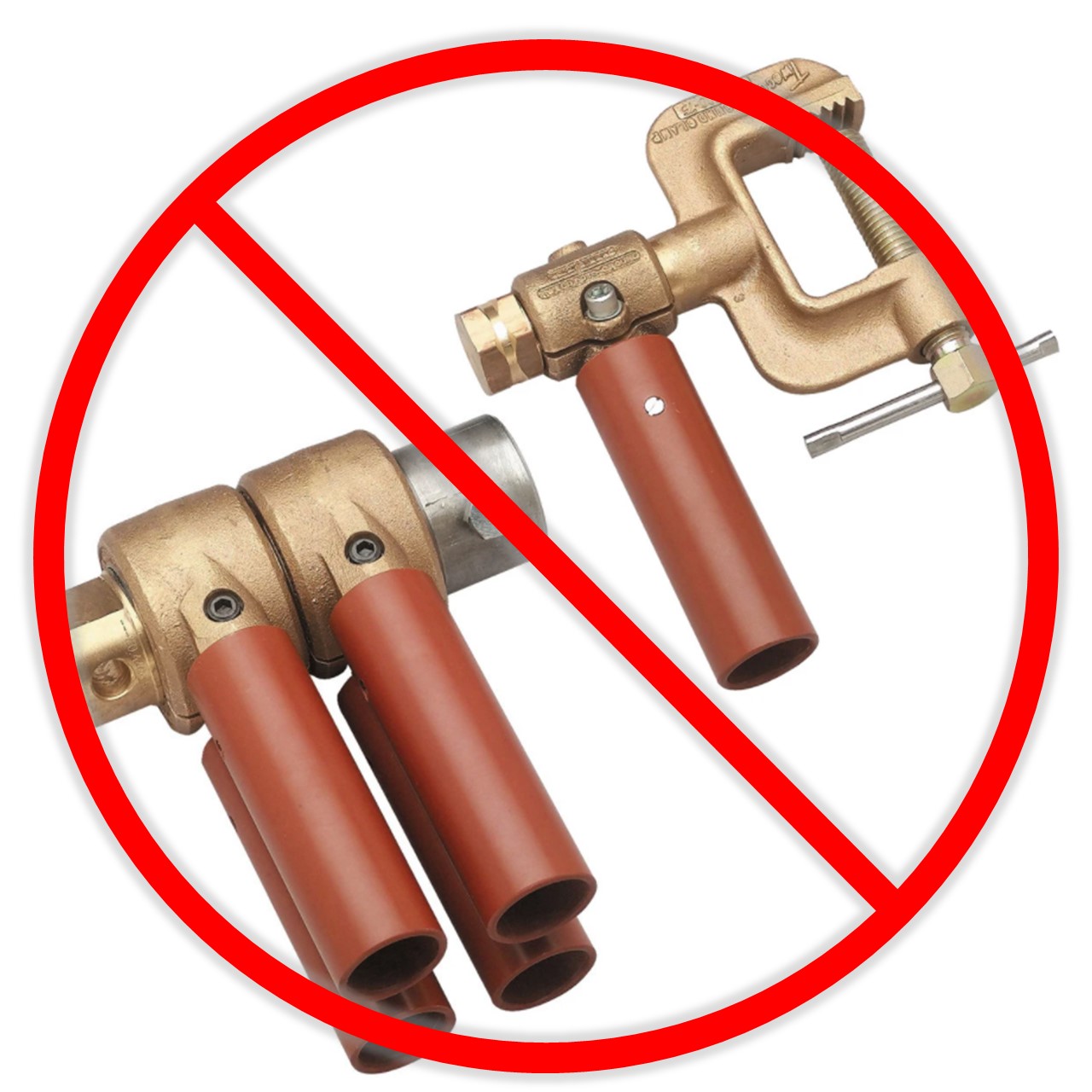 Experience the Maintenance-Free Brushless ROTOCON ERG Electrical Rotary Ground Solution for Yourself
Trade-in your Lenco or Tweco model and receive 10% off your first order.
It's time to enjoy the benefits only a ROTOCON can offer:
100% maintenance-free and arc-free design for uninterruptible machine output and usage
Frequently surpass 500 million revolutions without demonstrating a change in performance
Provides consistent low and stable resistance for high current applications
Receive a 10% discount for your trade-in
---
| Same Great ROTOCON Advantages: | Added Benefits: |
| --- | --- |
| » Extremely low contact resistance | » More adaptable with flexible design options |
| » Maintenance-free | » Handles weight of cables & work pieces |
| » Unaffected by RPM and use over time | » Improved performance & a better price-point |
| » Environmentally sealed | » Available as RoHS / CE compliant |