Blog / 2021.07.09
Why Are Engineers Choosing Polyurethane to Coat Clamps and Grippers?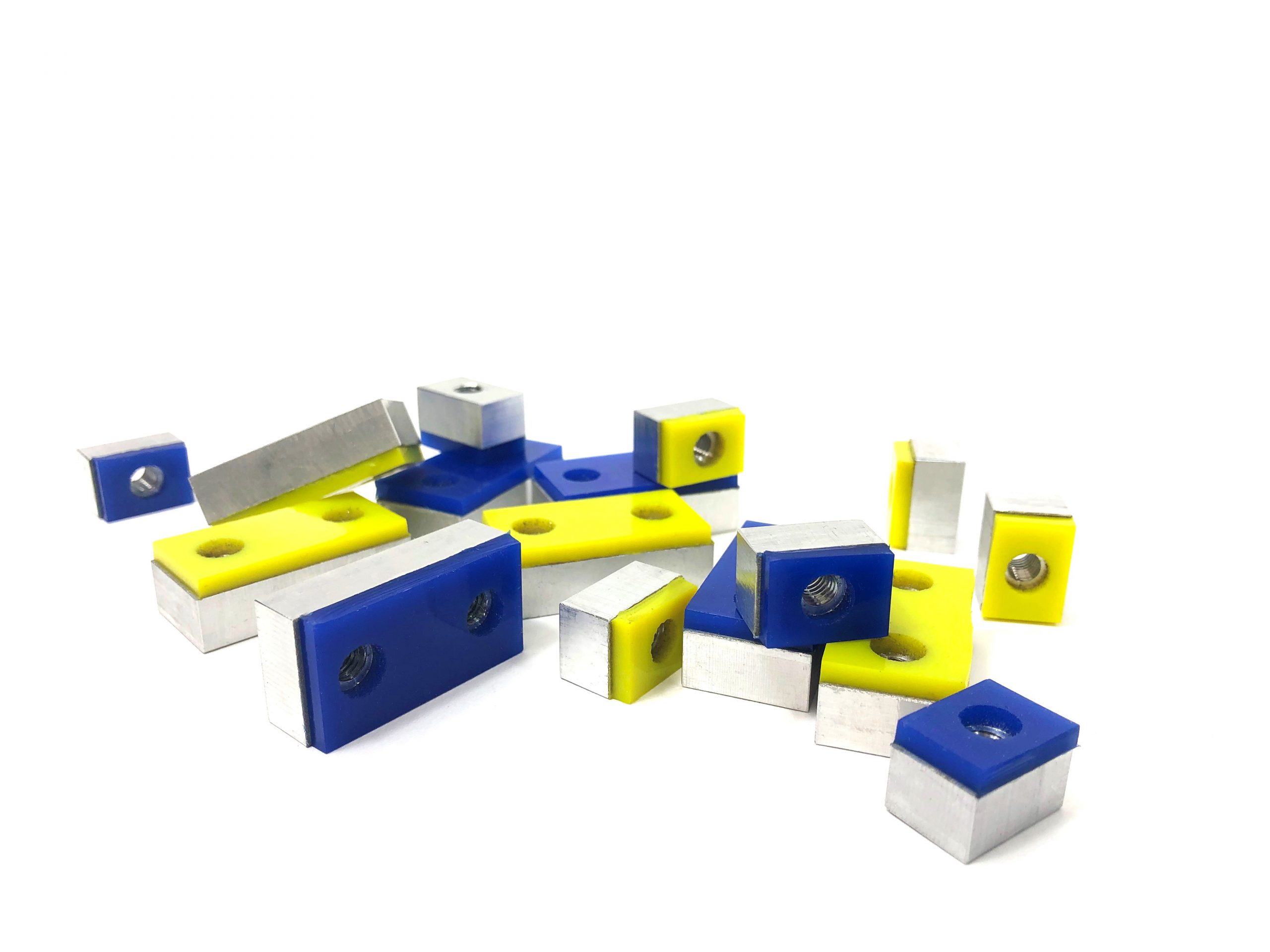 From robot pincer fingers to workholdings, today's industry leaders are turning to ML6 Precision Polyurethane to meet their gripping challenges
Meridian Laboratory continues to be relied upon to design and manufacture the highest-precision polyurethane solutions, and has been a trusted product innovator since 1963. Today, advanced demands have created new opportunities for engineers to discover the benefits of choosing polyurethane over other traditional materials. Recently, the need for coating clamps and grippers has become an evolving market. Engineers are tasked with spec'ing high-friction solutions that can meet machining challenges from workholdings to clamps for robotics and automation.
Concerns about scratches and parts not being well secured are common problems. Many robots are now performing critical tasks from inspection, material handling, to healthcare and military applications. Because these are new challenges, far too often projects and products fail due to inefficient coating materials. There are many common coatings that typically create more problems than they solve.
Traditional Coating Materials:
Skateboard grip tape
Plasti-dip
Glued-on rubber strips
Electrical tape
Machined plastics (Delrin, Acetal, UHMW, etc.)
ML6 precision polyurethane is non-marking and provides the ideal solution because it features better friction, abrasion resistance, and provides added protection to your products. Also, through Meridian Laboratory's unique and exclusive manufacturing process, we are able to coat very select and intricate profiles / contours to match any workholding, jaw, jig, fixture, chuck, or robotic finger. Engineers are now discovering additional benefits by choosing ML6.
ML6 Polyurethane Benefits:
Better / guaranteed adhesion to the material it is being bonded to
Exact, controllable, and repeatable tolerances
Can be configured with rebound (unlike machinable plastics)
Extra friction and protection of the parts being handled
Does not leave any residue or marks behind
Durable to chemicals and other materials in environments present
---
Frequently Asked Questions
How is the wear resistance of polyurethane?
The wear resistance of urethanes, in general, is first-class, especially when compared to similar materials such as rubber, nitrile, silicone, delrin, etc. The ML6 process however, goes a step further, all parts (even those with profiles) are processed right to their final dimensions leaving the outer skin of the material (the gripping surface) intact. This allows for increased friction, wear resistance, easy cleaning, and a longer service life over urethane components which are ground/machined to size.
How does the grip strength of polyurethane compare to other materials?
ML6 polyurethane substantially outperforms other materials. Meridian Laboratory is the primary and sole supplier of polyurethane gripper fingers by a US-based defense contractor for their newest model of bomb-diffusing robot. The contractor required unparalleled precision and grip, and ML6's bond strength and longevity proved unmatched – testing compared over 15 other materials including truck bed liners, skateboard grip tape, and many other adhesives which provide grip & durability.
How strong is the bond adhesion to the core material?
The ML6 process involves detailed preparation, the urethane cures and bonds to the substrate all in one step creating an EXTREMELY strong bond between the 2 materials; preventing delamination during operation. The bomb-defusing robot project mentioned above saw ML6 polyurethane run through rocks, soil, sand, and other rough terrain, really putting the bond strength to the test – ML6 performed flawlessly through these tests.
What kind of material has Meridian Laboratory developed?
Meridian Laboratory materials are all polyurethane based, offered in 7 different standard durometers with the capability of adding additional hardness and custom formulations as needed. Standard hardness options are: 40, 55, 70, 80, and 90 on the Shore A Scale and 60 and 75 on the Shore D scale (very rigid). Sample kits are available that include swatches of all of the Shore A options to get a feel for the materials.
How is ML6 different from other polyurethanes?
ML6 is unique in that it can hold very tight tolerances without grinding. This leaves a perfect surface finish that has a better coefficient of friction, and is impervious to contamination since the cell structure is not opened through grinding or finishing. The unique process and polyurethane blend results in better abrasion resistance, non-marking solutions, and longer lasting part. More information regarding the advantages of ML6 can be found here.
What else can Meridian Laboratory coat with ML6?
Although ML6 was originally developed as a high-friction drive roller for the paper and card stock feeding industry, over the past 55 years engineers have found some uncommon applications because of its unique characteristics. Meridian Laboratory routinely produces bearings, no-crush wheels, gaskets, bushings, cam followers, bumpers, and more!
Does Meridian Laboratory offer standard grippers?
No, all products are specifically designed to meet each applications individual requirements. A huge advantage with choosing ML6 is that all new parts can be made extremely efficient, both from a cost and time standpoint.
What is the turnaround time?
Single piece prototypes are made available in as little as 5 business days! Parts become standard as soon as one piece has been manufactured. Then, batch delivery of large orders available to be called in on daily basis as needed.
Can Meridian Laboratory coat the clamps and grippers that I provide?
Yes, our engineers will work with you directly and deliver industry-best turnaround time mentioned above.
Can Meridian Laboratory strip and recoat my grippers and clamps?
Yes, ML6 polyurethane is an ideal solution for recovery, repair, and replacement. Meridian Laboratory not only supplies new grippers but also repairs, recoats, and recovers existing grippers that no longer perform or meet specifications as needed.
Upon receipt of parts for refurbishment, Meridian Laboratory will analyze the parts as follows:
Measure existing coating for dimensions or obtain desired measurement and sizes.
Measure durometer of existing coatings or obtain desired durometer.
Confirm with customer desired dimensions, colors, and durometers.
Measure cores, shafts, and other parts for tolerances.
Repair or replace any cores that are out of tolerance.
Bond new Meridian Laboratory polyurethane ML6 to specifications.
Measure and ensure recovered tolerances match desired specifications.
Can Meridian Laboratory design and supply grippers whole?
Yes, Meridian Laboratory has many in-house capabilities, our expert engineering team thrives on new challenges, and customers often rely on our state-of-the-art machine shop to CNC and machine the entire part.
How do I get started?
Meridian Laboratory has made the process of developing custom cast and custom molded polyurethane components easy and efficient.
Contact Meridian Laboratory with specifications, drawings, or the part you wish to have made.
A recommendation will be provided on tooling and sizing.
If you require specialized tooling, a one-time setup charge (generally between $250 and $500) and is good for the lifetime of the parts' dimensions.
Specify if you would like to send parts to Meridian Laboratory, or have us deliver complete.
Typically, in 5-7 business days you will receive your first parts for testing and evaluation.
As demand and quantities scale, so can Meridian Laboratory's output and production capabilities to meet your needs.
We are always open for new and exciting challenges.