Blog / 2020.11.20
ML6 Delivering High-Precision Polyurethane Solutions Through the Decades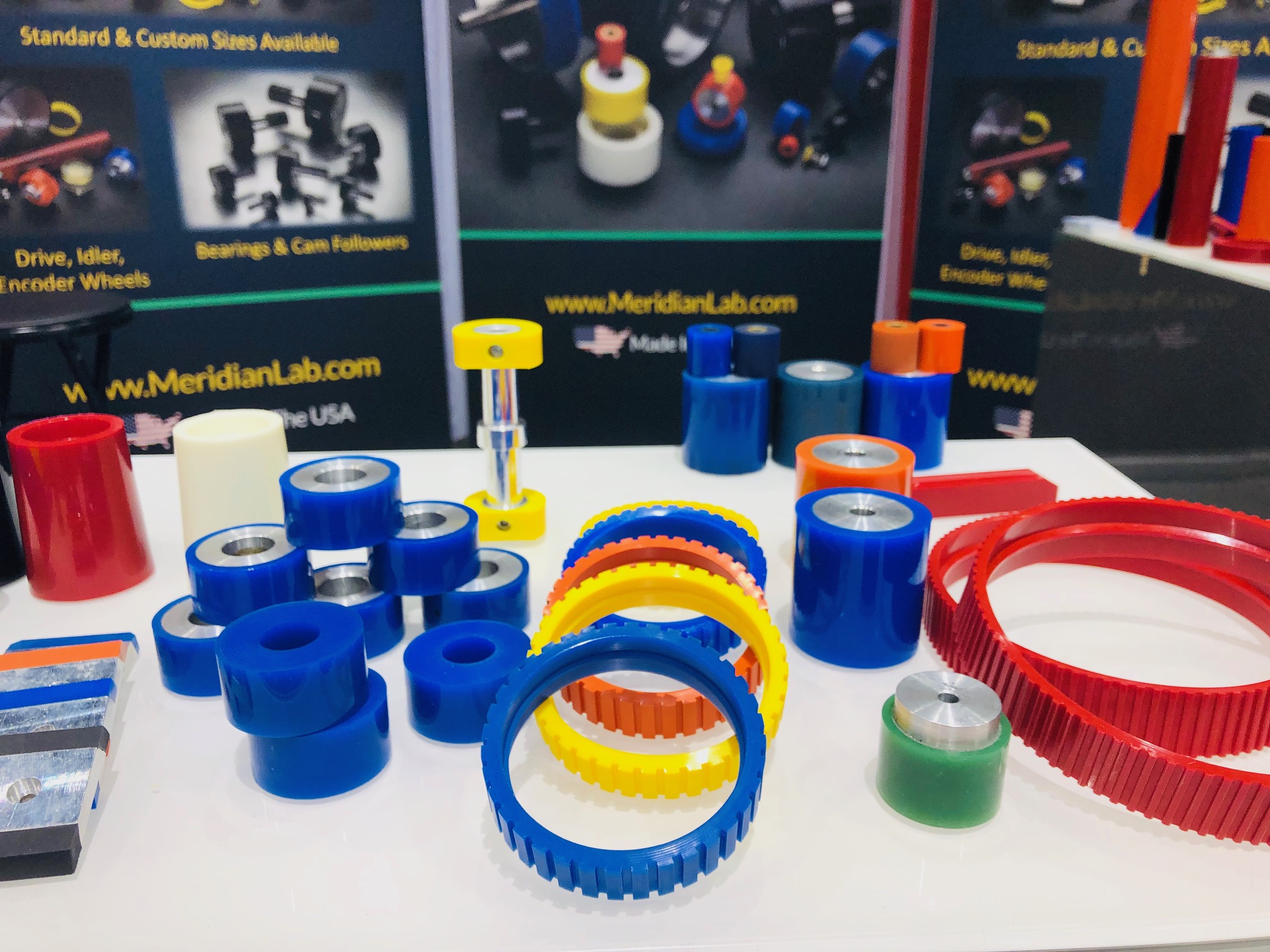 For over 55 years, Meridian Laboratory has developed a proud culture of investing in innovation, delivering high-precision solutions all over the globe. Our history of embracing challenges, along with our special blend of polyurethane, enables us to meet the most demanding requirements. ML6 provides the precision, durability, and customization that is essential to the success of many diverse ventures.
---
The 1960's and the Language Master
It was in the early 1960's when ML6 Polyurethane coatings were first developed. Meridian Laboratory was asked by a potential client to solve an issue with the Language Master, which allowed speech therapists to work with patients by recording the proper pronunciation of problem words on a magnetic strip card, to be played back later for practice. The cards were fed through the machine by rubberized rollers, which after a few years would break down, causing miss-feeds that would damage the cards and ruin the machine. While Meridian Laboratory had never worked on a problem of this type, our expertise and creativity were well known.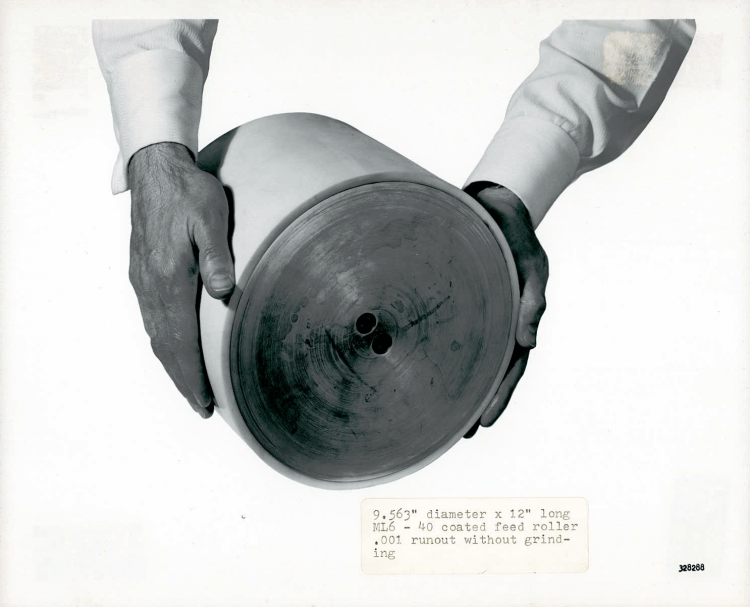 Seeing the problem as a worthy challenge, our engineering team researched potential alternatives and improvements. After researching possible compounds that could be of use, Meridian Laboratory contacted a company in Illinois that had been working with polyurethane in larger-sized applications, such as creating piping, seals, large rubber containers, and alternative car tires. The first attempt to use this material for coating on small rollers was a failure. The material was very durable and had good wear characteristics, but was not precise enough for such a delicate application.
An original formula needed to be created to fit the needs of this new application. This altered polyurethane compound became the base formula for what is now ML6, and allowed Meridian Laboratory to control the dimensions of the polyurethane down to 0.001″ accuracy. ML6 now had everything the Language Master needed to move the card precisely, and significantly increase the longevity of the machine. The positive reaction to the new material from the Language Master team was so strong that Meridian Laboratory started to market ML6 Precision Polyurethane at tradeshows, and began selling drive rollers coated in ML6 in addition to the ROTOCON line.
---
Dawn of the Computer Age in the 1970's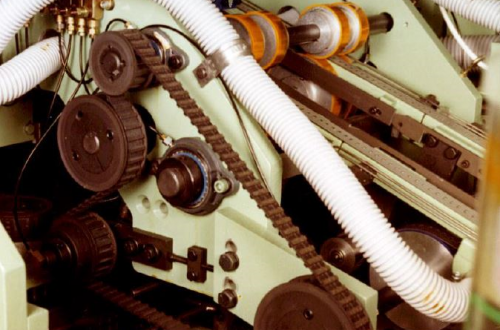 In the 1970's, as computers became an area of increasing interest to universities and research laboratories around the country, Meridian Laboratory was there to solve a familiar problem. Computers were originally fed data through punch cards, much in the same way that the Language Master was fed its recordings. These punch cards were most commonly made from paper and contained bits of code on them, which were logged on the computer in the exact order they were fed through by the rollers. Similarly to the Language Master, these rollers would wear out, become unreliable, and ruin the order of the line of code, requiring the technicians to start all over from the very first card.
The ML6 formula had the same advantages in durability and efficiency to computer rubber rollers as it did to the Language Master's rollers, and Meridian Laboratory quickly became one of the go-to sources of polyurethane rollers for high-level research institutions around the country.
---
ML6 and Magnetic Tape in the 1980's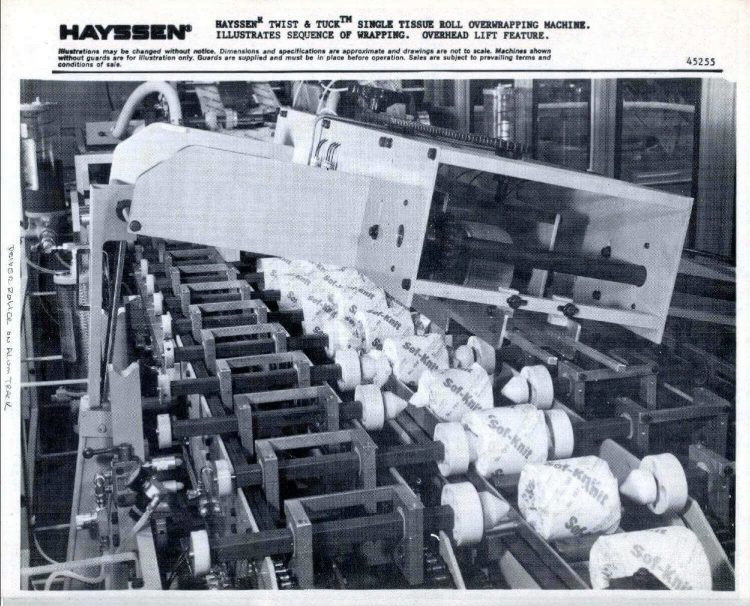 As punch cards gave way to magnetic tape for storage of data, Meridian Laboratory began to adapt to the difference in roller coating needs. Magnetic tape was the preferred method of data storage and transfer for many popular products such as 35MM cameras and VHS tapes. It was also far more delicate and precise than paper punch cards and required a level of roller coating uniformity that other products couldn't match. ML6's reliable quality allowed tape to be fed at a faster rate than with rubber rollers, because there was no need to worry about blemishes on the coating that might damage the fragile tape as it sped through.
As computers grew faster, smaller, and more common, industrial manufacturers began to use them to run the machines in their factories, allowing assembly lines to speed up and stop less. Under these conditions, rubber rollers simply could not hold up. One company, Hayssen Manufacturing, used ML6 to increase their assembly line rollers from 50 rpm to 500 rpm, greatly increasing output, productivity, and decreasing the costs of standby time due to maintenance. As the computer powered industrial world started to sprint faster and faster, ML6 grew to cater to these markets.
---
The 1990's and Rapid Line Expansion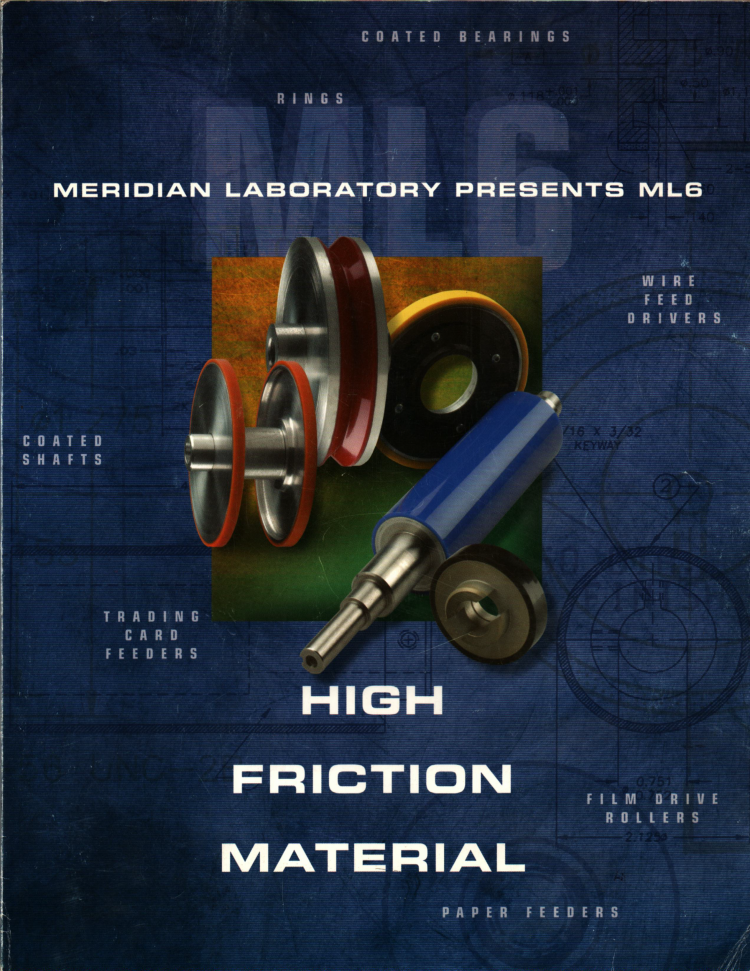 In the 1990's technology growth in the manufacturing industry began to decline and the Meridian Laboratory team began to look for new ways to apply our innovative ML6 formula. The first step was to broaden and standardize the product lines and offerings, to avoid limiting the ML6 material to industrial uses. With a little customization of the formula and ordering processes, ML6 could now be commissioned for use in everything from 6000 roller manufacturing machines, to a small order for custom skateboard wheels. As potential applications expanded, the volume of ML6 product manufactured increased significantly, but the quality of the product never faltered.
Today, standard sizes and profiles are widely available very affordably, oftentimes with next day shipping.
ML6 precision polyurethane coated drive rollers, cam followers, and bearings are available in a variety of sizes, colors, and durometers to meet any of your most demanding requirements. Click here to shop online and view some of our most popular items.
---
2000-2010, The Era of Diversification
Following in the footsteps of the 1990's, the early 2000's was a period of great diversification of applications and uses for the ML6 Polyurethane material. The Meridian Laboratory engineers showcased their creativity in the design of materials to solve obscure and unique problems, including coating sockets for airplane manufacturing to prevent damage to paint.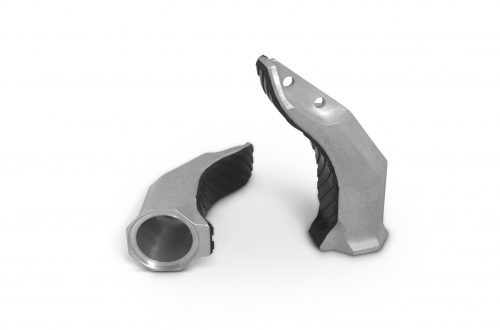 ML6 polyurethane was used to coat pincer fingers on bomb-diffusing robots. A US-based defense contractor required unparalleled precision and grip, and ML6's bond strength and longevity proved unmatched. Testing compared over 15 other materials including truck bed liners, skateboard grip tape, and many other adhesives which provide grip and durability. After a year of harsh testing, ML6 precision polyurethane provided a dramatically better performing robotic pincer with excellent bond strength and gripping capabilities.
Meridian Laboratory now offers long-lasting ML6 polyurethane for robotic gripper fingers, gripper jaws, non-marking work-holdings, gripper chucks, and clamps. ML6 typically replaces any conventional fixture that grasps or holds delicate parts & components without marking or deforming the product. Our special blend of polyurethane meets the most demanding requirements.
---
ML6 Innovation in the 2010's and Beyond
In recent years, Meridian Laboratory proudly supplied 10,000 high-precision rollers to be installed in breakthrough medical and diagnostic imaging devices that detect and provide early prevention of breast cancer.
Working directly with engineers at a major aerospace design and engineering firm, Meridian Laboratory was able to deliver low volume prototypes of their custom designed polyurethane idler rollers in a matter of days for testing and evaluation. Following an extensive test period, and tests to conform with aerospace standards, Meridian Laboratory worked to answer customer questions to further the customer's confidence in selecting Meridian Laboratory.
With Meridian Laboratory's engineering support, the choice manufacturer and integrator of high-end, in-car video cameras used by NASCAR developed a custom ML6 polyurethane vibration isolation mount. Made possible by our quick and cost-effective tooling, and ability to specify the exact tolerances/dimensions of the customer's proposed solution.
In what has become an annual tradition, Meridian Laboratory continues to support UW-Madison's Hyperloop team. Badgerloop relies on the ultra-high friction that ML6 can provide for the integral drive wheel for their pod.
In 2020, Meridian Laboratory became a Gold Level Sponsor for Bedford Express FRC Robotics Team 1023, and provided ML6 high-performance polyurethane wheels. These precision wheels have enabled the Bedford Express robot to fire foam balls about twice as fast as almost every other robot, and make for the most accurate shooter they've seen.
---
How ML6 Continues to Excel
While Shore scales and durometers are universal across the world, Meridian Laboratory ML6 is unlike any other polyurethane material available on the market. It is particularly unique due to its high-friction and low-wear characteristics. Traditional polyurethane manufacturing involves grinding the polyurethane, and most manufacturers will recommend and require a very low durometer in order to meet the friction requirements of the application. The tradeoff for this is the lifespan of the roller. Meridian Laboratory does not grind any of its rollers and relies on a sealed, high-friction drive surface. With its superior surface finish, bond strength, and friction quality, Meridian Laboratory ML6 can often provide the same friction qualities of lower durometer material, with the longevity and wear ability of a higher durometer.
Browse a collection of unique projects from the ML6 Product Gallery page.
Use the links below to browse a selection of ML6 Precision Polyurethane coated wheels, rollers, bearings, bushings, and other components that deliver maximum bond strength, or use the button below to submit an RFQ with your blueprint or specifications.